Tips for Cleaning Your Gym Mats
By Rick Schott Circle the author on Google+
The health and wellbeing of your customers and employees are very important to you and keeeping your facility clean and safe is a critical part of that program. Below are some key tips to making sure the mats in your facility are clean and safe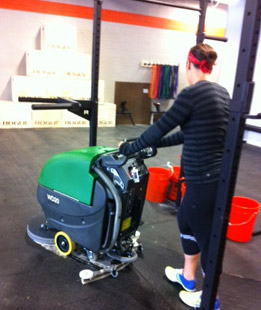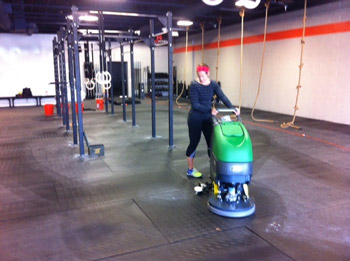 When using a disinfectant on your mats allow plenty of "dwell time" for the chemical to effectively kill the germs. Some disinfectants may cause skin irritation or even cause metal equipment to rust. Be sure to read labels thoroughly.

Always rinse disinfected mats with plain water after adequate dwell time has passed.

Whether you are mopping or using a mat scrubber use the minimum necessary detergent in the water. Excessive use of soaps and detergent will cause a build-up on the mats. Many mats will also soak up water and soap harboring dirt and germs.

If you get an automatic scrubber like the Bulldog Mat Scrubber operate the machine with water only for at least 4 cleanings. If you have been mopping mats with soap and water odds are that the mat is saturated with detergent and dirt from the mop water. Repeated scrubbing without using soap or detergent will draw the impurities out of the mats.

If possible use hot water (up to 140 degrees) when cleaning the mats. It cleans better and dries more quickly.

Adequate ventilation is the key to quickly drying the mats after cleaning. Opening doors, turning on ceiling fans or running a floor fan will speed the process.