Tips for Cleaning Your Gym Mats
We know that keeping your members and employees safe and healthy is very important to you. Whether sharing weight lifting equipment or doing burpees, your active members will be spreading sweat and dirt. Properly cleaning and disinfecting your gym facility is critical to maintaining a healthy environment. A disinfectant should be used on surfaces like rubber gym mats where there is a higher possibility that pathogens will be transferred. Below are some helpful tips on how to clean and disinfect floor mats in your facility to effectively clean your gym.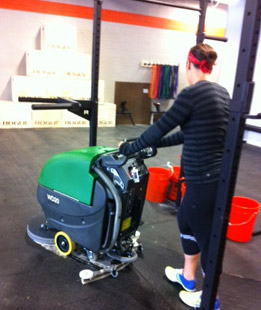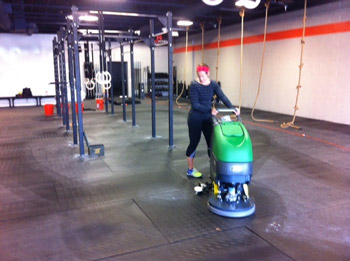 Allow plenty of "dwell time" for the chemicals in your disinfectant to effectively kill germs. Disinfectant chemicals cannot just be sprayed and wiped off. For your gym mat disinfectant spray to work you must let it sit on the surface for the recommended amount of time. Be sure to read labels thoroughly. 
Rinse disinfected chemicals away with plain water. After the adequate dwell time passes be sure to remove the chemicals completely. Some disinfectants may cause skin irritation or even cause metal equipment to rust. Consult the labels on your disinfectant before using.
Use the minimum amount of floor cleaning detergent necessary. Whether you are mopping or using an industrial floor scrubber, excessive use of soaps and detergent will cause a build-up on the mats. Many mats will also soak up water and soap harboring dirt and germs. 
When you first use an automatic floor scrubber, run the machine with water only. After purchasing a Bulldog Mat Scrubber, operate the machine with water only for at least 4 cleanings. If you have been mopping mats with soap and water, odds are that the mat is saturated with detergent and dirt from the mop water. Repeated scrubbing without using soap or detergent will draw the impurities out of the mats. Contact Factory Cleaning Equipment at 866-680-4067 and we'll help you choose the correct walk-behind autoscrubber for your gym mats. 
Use hot water. Hot water (up to 140 degrees) will clean your gym mats more effectively and they will dry more quickly.

Ensure adequate ventilation. The key to quickly drying your facilities gym mats after cleaning is proper ventilation.  We recommend that you open doors, turn on ceiling fans or a floor fan to speed up the drying process.
Check out our recommended step-by-step cleaning process to reduce the risk of virus and disease outbreaks. 
When selecting a detergent, our technicians at Factory Cleaning Equipment recommend Bulldog Mat Cleaner, a neutral pH detergent ideal for surfaces that frequently come in contact with skin. Please contact us to discuss your facility's unique needs and we'll help you choose a disinfectant and detergent that is best for you.