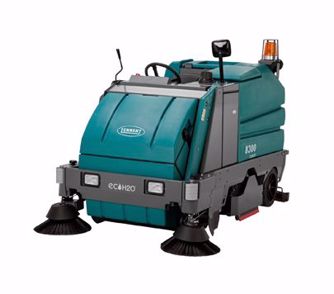 If you have a very large floor cleaning application that requires battery power, a Used Tennant 8300 could be a great fit. This sweeper-scrubber has all of the power and capabilities of propane and diesel powered units in an all-electric design. Cleaning professionals tasked with cleaning large food plants, warehouses, and other high-tech applications choose the 8300 because of its outstanding productivity capabilities and long run times. Note: There is an updated version of the Tennant 8300, now called the Tennant M17. 
Check Availability of Used 8300
Learn more about the Tennant M17 scrubber.
The Battery-powered 8300 is a "True Sweeper Scrubber". This means that operators can run in a dry sweep only mode, scrub only mode, or just vacuum up water. The unit is also capable of sweeping, scrubbing, and vacuuming floors dry in a single pass to maximize productivity. The sweeper portion of the machine has all the features of a dedicated sweeper. Available dual side brooms provide a 64" sweeping path. A vacuum turbine and self-cleaning filter system provide dust-free sweeping. The 300 pound capacity hopper automatically dumps into containers as high as 60". The scrubber portion of the machine also delivers all of the features found on large dedicated scrubbers. This machine is capable of aggressively cleaning and vacuuming dry a 48" path. Disk and Cylindrical scrub heads are available.
The productivity possibilities of the 8300 are the best of any battery powered unit in the industry. The available 64" sweep path and 48" scrub path are capable of sweeping and scrubbing over 70,000 square feet per hour. This unit can carry an industrial battery as large as 750 AH. Operators will be able to clean over 300,000 square feet per charge. The 8300 has a 57 gallon solution tank and a 90 gallon recovery tank to extend scrub times between dumping and refilling. Tennant's ec-H2O and FaST options reduce water consumption by about 70% giving the 8300 the longest scrub time available before refilling.