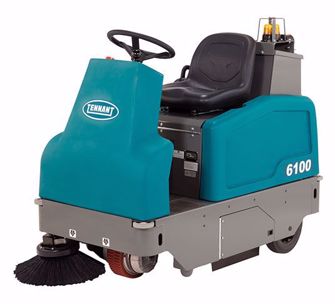 Compact. Efficient. Powerful.
The Tennant 6100 is a compact battery-powered rider sweeper designed to tackle small debris on hard surfaces with ease. Its versatility shines as it can be placed on a standard passenger elevator for multi-floor cleaning. Surprisingly, the 6100 isn't just limited to hard surfaces; it excels as a carpet sweeper too!
Key Tennant 6100 Sweeper Features
Efficiency At Its Best
At a recommended operational speed of 3.0 MPH, the 6100 efficiently cleans at a rate of 35,600 square feet per hour. With fully charged batteries, it can sweep for at least four hours. Safety is paramount with standard features such as a power key ignition switch, an emergency power kill switch, and an operator safety switch that stops the Tennant sweeper unless the operator is seated.
Simplified Operation and Maintenance
The 6100 ensures ease of use with simple manual brush levers that raise and lower all brushes. Pictogram-style usage and care guides are conveniently mounted next to the operator's seat. Tennant's VCS system filter shaker is a unique feature that eliminates the need for manual cleaning of the dust filter, while a downward-sloped grid on top of the debris hopper protects the dust panel filter from flying debris. Emptying the hopper is a breeze with a tall luggage-style handle and large rolling wheels.
Customizable Cleaning
Achieve versatility with the 6100's optional dual side brooms, providing an industry-leading 38-inch cleaning path. To tackle tight corners and challenging areas, think about adding the optional vacuum wand. You can also choose from popular options like operating headlights and a rotating hazard light.