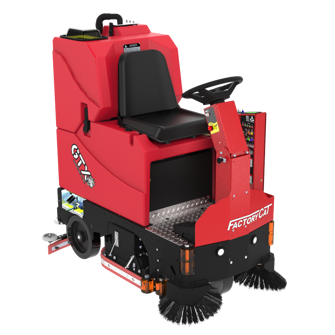 The Factory Cat GTX ride on floor scrubber combines productivity, versatility, and performance all in one package. This small ride on scrubber is made in America in Racine, WI, but has one of the highest horsepower motors in its class with upgraded HD motors. With run time up to 5 hours, this battery-operated machine is ideal for tight areas and the best floor scrubber for these small to midsize facilities:
Warehouses
Manufacturing facilities
Food and beverage packaging and distribution
Sports arenas
Automotive shops and garages
Machine shops
Aviation
Schools
Hospitals
Garages
Municipal facilities
And more
Maneuver with Ease
With a 57" turning radius and side brooms to sweep up against walls and under racking, the GTX is the ideal scrubber even for tight aisles and smaller areas. The unique tanks are designed for easy access and hygienic clean out. 33 gallon solution capacity extends scrub time between re-fills and the optional spray hose can be used to clean out the dirty tank, or for spraying in corners or difficult to reach areas. The Factory Cat GTX can be equipped with three different scrub systems: disc brushes, cylindrical brushes, or the Edge square scrub head. 25" to 34" scrub paths let you design a scrubber that fits your needs. The GTX offers a variety of options so you have the most tailored machine to clean your specific floors. Common options include front side brooms, heavy duty side doors, vacuum wand, spray hose, no- marking tires, work lights, and many more.
Worry-Free Maintenance with a Service Cabinet
The service cabinet of the GTX floor scrubber will make your machine maintenance and service simple and convenient. From a vacuum discharge that indicates when service is required to a battery drain where you can drain any fluid from the Poly Battery Box, and much more, servicing your machine is all in one place. This helps your business reduce scrubber downtime due to maintenance and ensures your machine is performing for years to come. Here are additional helpful features:
Full tank red light indicator
Clogged squeegee red light indicator
Drain Saver Basket to collect debris
Oversized Vacuum Screen Shut-Off
Vac Box Unloader
Vacuum Discharge
This Factory Cat battery floor scrubber offers similar features of the other Edge scrubbers, but in a rider platform. The GTX makes an excellent daily scrubber and uses 70% less water/soap to increase your cleaning productivity. Even more, you'll improve floor conditions with a high-quality machine that promises simple maintenance and service.