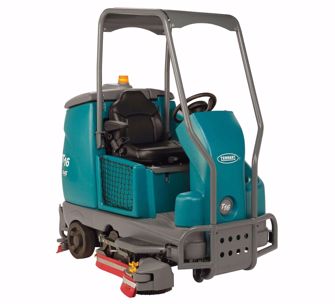 The Tennant T16 is an industrial-grade, self-propelled, ride-on floor scrubber featuring cost-saving Tennant innovations such as ec-H2O™ technology and ES® Extended Scrubbing, ensuring a high-performance clean while minimizing environmental impact. With its ability to clean virtually any hard floor surface, the T16 offers exceptional results and efficiency for your cleaning needs.
The Tennant T16 offers versatility with two options for scrub decks - a disk scrub deck or a cylindrical scrub/sweep deck. With the cylindrical scrub deck, manual sweeping is eliminated, streamlining your cleaning process. Additionally, you have the option to enhance the T16's cleaning path from 36 inches to 46 inches (28% wider) by incorporating the optional scrubbing side brush, providing even greater coverage.
Up Your Cleaning Capability
Powered by fully charged batteries, the T16 floor scrubber delivers up to two hours and forty-five minutes of high-performance scrubbing capability. With the optional battery pack upgrade, you can extend the run time to an impressive four hours and fifteen minutes, ensuring prolonged cleaning operations. For added safety and convenience, the T16 features a power key ignition switch and an emergency power kill switch on the dashboard. An integrated operator safety switch ensures that the scrubber only operates when the operator is seated.
Equipped with a powerful AC drive propel motor, the T16 exhibits excellent ramp climbing capabilities, outperforming traditional DC motors. Its brushless and sealed design not only ensures an extended component life but also requires less maintenance, providing you with a reliable and efficient cleaning solution.
Designed For Operator Ease
The Tennant T16 offers exceptional operator comfort with its large operator legroom, reducing fatigue during extended cleaning sessions. Its thoughtful design provides excellent operator visibility, instilling confidence while maneuvering in tight or congested areas. Unlike other scrubbers that require both feet to operate, the T16 features car-like pedals for easy single-foot operation, further enhancing user convenience and efficiency.
Heavy-Duty Quality You Can Rely On
Designed with corrosion resistance in mind, the T16 scrubber features a cast aluminum drive system, cast aluminum cylindrical brush deck, and cast aluminum squeegee assembly. The addition of rotationally molded polyethylene body panels and solution/recovery tanks further enhances its resistance to corrosion. Steel components on the T16 are coated with industrial-grade enamel paint, ensuring durability and longevity in harsh cleaning environments.
For user-friendly operation, the T16 is equipped with a large green 1-step start button on the dashboard, making it effortless to turn on and off the preset scrub functions. Once the desired scrub functions are set, this single button is all that's needed to initiate the cleaning process. All functions on the T16 can be controlled independently as needed, providing flexible and tailored cleaning solutions. Notably, the T16 features an "economy" setting for brush pressure and solution flow, which significantly extends the run time, reduces brush wear, and minimizes water/detergent consumption for efficient and cost-effective cleaning.
Optional Add-On's
Experience innovative cleaning with Tennant's on-board ec-H2O technology system, where water is electrically converted into an effective cleaning solution. This cutting-edge system dramatically reduces water consumption, leaving floors drier and ready for immediate traffic. Certified by the National Floor Safety Institute (NFSI), ec-H2O helps mitigate the risk of slip-and-fall accidents, while also meeting appropriate food safety regulations certified by NSF International. Choosing ec-H2O for your facility can also contribute to earning LEED points, reflecting your commitment to sustainability.
Maximize the life of your batteries with the popular and practical option of the Hydrolink battery watering system. Designed for ease of use, this system ensures that your batteries are filled to the correct level without requiring any special training or tools, effectively extending the battery life and optimizing the performance of your Tennant T16 scrubber.