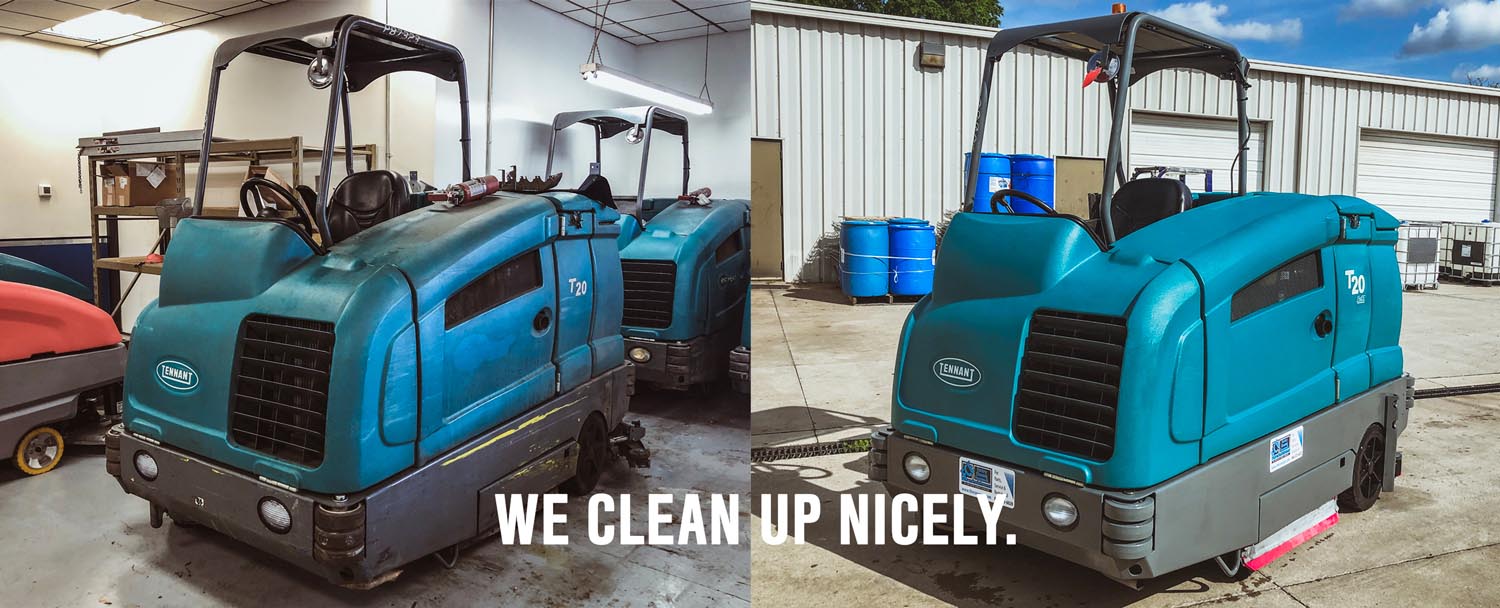 Factory Cleaning Equipment, Inc. has an ever-changing selection of refurbished floor scrubbers and sweepers and high-quality reconditioned floor care equipment for commercial and industrial applications. Purchasing a used floor scrubber or sweeper not only saves your business money, but it is an effective and proactive step you can take to prevent the spread of germs in your facilities.
Our experts will help you select the right used floor sweepers and scrubbers, refurbished floor burnishers and grinders, and parking lot surface cleaning machines in both walk-behind and ride-on options. Our large inventory includes used and refurbished machines from top brands like Tennant, Factory Cat, Bulldog and more.
Certified Warranty on Refurbished Floor Cleaning Machines
With over 24 years of experience, Factory Cleaning Equipment experts refurbish quality floor scrubbers and sweepers. Each pre-owned floor cleaning machine is inspected and restored from top to bottom, from brush deck and squeegee assembly to the frame and batteries, until it is in like-new condition. Our used floor cleaning machines for sale are rebuilt with new replacement parts and an FCE certified warranty that you can trust.
Used Floor Care Equipment That's Like New
Our promise to you is that your used floor scrubber or sweeper has been given the proper care and attention to make it like new again. All used floor cleaning machines include an FCE certified warranty!  If for some reason you are not satisfied with your refurbished floor care machine, we will make it right. We will install new replacement parts on used equipment, including, but not limited to:
Brush deck skirt
New squeegee assembly
Batteries
Hoses (solution and drain)
Brushes and brooms
Flaps
Battery cables
Complete engine tune up
Drive wheels & caster wheels
Gaskets & Filters
Paint & Decals
Driver's seat
Vacuum motor
Our Response to COVID-19
In order to keep you and your employees safe, here's what you can expect when you purchase a used floor cleaning machine:
All machines will be cleaned thoroughly and disinfected before delivery.
Before we leave the machine, all touch points on the machine will be disinfected again.
Delivery personnel will be equipped with the proper PPE for the situation.
Operator training at delivery will include the most efficient and effective cleaning and disinfecting methods for operation. We will also instruct operators how to clean and disinfect equipment after use and how to properly use cleaning and disinfecting chemicals as well as the PPE required.
Rebuild Your Existing Floor Scrubber
If you have a floor scrubber or sweeper that you think is ready to be scrapped, let Factory Cleaning Equipment take a look at it! Before you replace your commercial floor cleaning equipment with another industrial floor scrubber or sweeper, learn more about the FCE Certified Rebuild program. We'll make your existing floor scrubber look and work like new again! No matter what your cleaning situation is, we will help you find the right floor scrubber or sweeper for your needs.
A used floor cleaning machine might be just what you need.