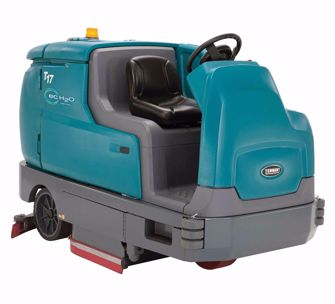 Experience the cutting-edge Tennant T17 ride-on floor scrubber, designed to deliver customized cleaning solutions to meet your specific needs. This high-performance machine ensures a thorough clean in just one pass, improves indoor air quality, and enhances the operator and supervisor experience. A large rider scrubber with the convenience of battery power, the T17 is ready to conquer even the toughest environments.
Maximize Productivity and Efficiency
With the Tennant T17, you can maximize your productivity with a wide range of cleaning path options, from 40 inches to an impressive 52 inches. Harness the power of ec-H2O™ technology to reduce detergent and water usage, allowing you to clean up to three times longer with a single tank of water. Its AC brushless propelling motor ensures a heavy-duty, low-maintenance scrubbing system that operates efficiently, providing long-lasting performance.
With an estimated run time of up to 7.5 hours, this battery-powered floor scrubber will allow you leverage its wide cleaning path capabilities across your facility during full-shift operation. 
Focus on Safety and User-Friendly Operation
Safety is at the forefront with the T17 ride-on scrubber, featuring high traction, a swinging squeegee for excellent water recovery, and practical safety features. The intuitive Touch-n-Go™ control panel and optional Pro-Panel™ technology make operations easy, while the machine's innovative design enables quick maintenance with yellow touch points for easy identification.
Facilities the T17 can work well in:
Manufacturing
Public Transportation
Airplane Hangars
Schools and Universities
Parking Garages
Food Plants
Warehouses
Machine Shops
Shopping Malls
Apartment Buildings
Automobile Dealerships
Restaurants