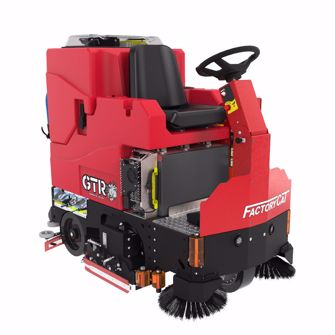 The Factory Cat GTR battery ride on floor scrubber is one of the most powerful scrubbers in its class. It's known for its value to the customer and its American-made high quality that is designed to perform and built to withstand. The GTR is the big brother to the GTX scrubber model.
Trusted Performance
A high-quality scrubber is a precious investment that you expect to perform not just now, but also years to come. The battery-powered GTR has one of the strongest horsepowers in its class of equipment with the upgraded HD model. And when you want to clean the floors reliably well, the GTR floor cleaning machine is the trusted scrubber for the job. Curious if the GTR works well in your industry? The GTR is ideal in these facilities:
Warehouses
Manufacturing facilities
Food and beverage packaging and distribution
Sports arenas
Automotive shops and garages
Machine shops
Aviation
Schools
Hospitals
Garages
Municipal facilities
And more
Taking Simplicity to A New Level
From easy operation to simple maintenance and repairs, the GTR floor scrubber has been designed with you in mind. If you're looking for a high-quality machine to make your cleaning job easier, this is the ideal machine. Here are the features that emphasize simplicity:
Service Cabinet- includes six different features that keep you in touch with your machine and its maintenance needs.
Recovery and Vac Box- the Drain Saver Basket collects debris, so it doesn't clog your floor drains, and red-light indicators notify you when tank is nearly full or squeegees are clogged.
Fill system- features a retractable hose for easy filling on standard sink faucets and a stainless screen for bucket filling
Customizable to specific job
With a variety of different machine options, you're able to customize the GTR scrubber to your specific cleaning needs. Here are some common options to choose from:
ST model/HD model- depending on much horsepower you desire.
Disk brush/Cylindrical brush- depending on if you want to simultaneously sweep and scrub.
Optional onboard charger- for convenience.
Side doors- to protect scrub deck from impact damage.
Spray jet- to spray hard to reach areas.
Overhead guard- to protect operator.
Side brooms- to sweep up against walls and beneath racking.