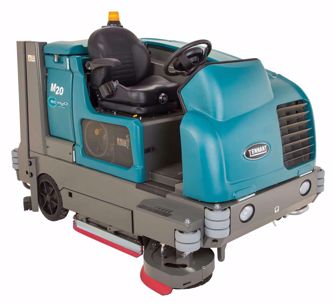 The Tennant M20 industrial sweeper-scrubbers are the industry standard for internal combustion-powered floor cleaning machines. The fully-integrated M20 is available in LP, Gas, and Diesel, and it is capable of heavy scrubbing, dry sweeping, or accomplishing both tasks at once. Get the best of both worlds with this floor scrubber - the large size you need for your facility plus the ability to clean into corners and easily maneuver around obstacles.
Elegant Simplicity
The Tennant M20 has all the advantages of previous sweeper scrubbers while eliminating half of the parts necessary to make it work. With the touch of a button operators can transition from a scrubber/sweeper to dry sweeping. The "high dump" feature is the first of its kind for a scrubber sweeper. Operators can empty the debris hopper automatically into containers as tall as five feet.
Maximum Operator and Facility Safety
Seating the operator up front in the M20 provides excellent visibility for optimal cleaning while maximizing operator safety. The hydraulic high-dump rear hopper eliminates the need to manually deal with debris, while the parabolic squeegee provides exceptional water pickup during scrubbing. 
Simple design and heavy duty construction make this the most reliable LP, gas, or diesel floor cleaning machine available today.  This industrial sweeper-scrubber is ideal for large warehouses, factories and distribution centers, as well as hard surfaces outdoors including parking garages. Enhanced visibility and extreme maneuverability will keep your facility safe and productive inside and out.