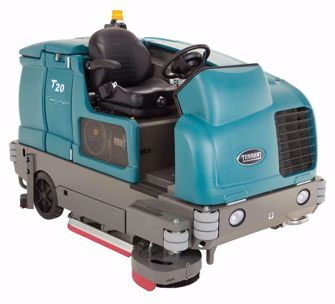 Achieve high-performance results in the toughest environments with the Tennant T20 LP industrial ride-on floor scrubber. This robust machine delivers significant cleaning power, thanks to its exceptional scrubbing and water recovery system. Designed for ease of use and maintenance along with low operational costs, the T20 is the choice for cleaning professionals and national rental companies.
Exceptional Power & Capability
Tennant's unique design of the T20 floor scrubber makes this large propane scrubber extremely maneuverable and very safe to operate. The operator is seated toward the front of the unit making it easy to see obstacles and other traffic in your facility. Front wheel drive and front wheel steering makes training on the T20 simple, even for novice operators. This scrubber is capable of scrubbing in tight corners and close to walls. The entire machine is surrounded by heavy steel bumpers and large non marking rollers on the corners to prevent damage to your equipment and facility.
Maximum Productivity
When it comes to achieving maximum productivity, the Tennant T20 stands out as a top contender. Capable of scrubbing an impressive 60,000 square feet per hour, this LP scrubber is a true workhorse. Equipped with large 80-gallon tanks and the innovative ec-H2O system, users benefit from the longest scrubbing time in the industry between fills.
The T20 offers versatility with two main brush choices: disk main brushes or cylindrical main brushes. Cylindrical brushes provide the added advantage of both sweeping and scrubbing, making it a versatile option for a wide range of cleaning tasks. On-board diagnostics further enhance your maintenance experience, providing quick and easy access when needed. The T20's no-tool squeegee and brush change feature ensures that your operators can keep moving without unnecessary downtime. With the T20's unmatched reliability, you can trust that your team will spend more time productively scrubbing and less time on maintenance concerns.
Why Choose A Propane Floor Cleaning Machine
Discover the advantages of a propane floor cleaning machine like the Tennant T20, widely favored in the floor cleaning industry for its efficiency and reliability. With many facilities already using propane-fueled forklifts, opting for a propane-powered scrubber provides added convenience. Propane/LP scrubber engines are renowned for their longevity, capable of running up to ten thousand hours when properly maintained. Enjoy the simplicity of refilling or replacing propane tanks, ensuring minimal downtime compared to battery-operated counterparts. Additionally, propane machines offer sustained power on graded surfaces, making them a recommended choice for demanding environments like parking garages.
See the T20 in Action