Brewing is an ancient craft that today includes some very modern cleaning practices. CIP systems, steam cleaning, and chemical abrasives allow the machines to stay in tip top shape for a consistent brew. Brewery floors should not be overlooked when it comes to avoiding bacteria infestations. A brewery floor handles a lot of wear and tear. From heavy kegs and forklifts to thermal shock and harsh chemicals, properly maintaining the floors of a brewery presents a number of challenges.
Though all operations are designed differently, making this industry as diverse as its bottle labels, concrete floors have essentially become industry standard due to their ability to withstand the abusive nature of operation. A lot of thought likely went into the floors when it was time to consider the brewery's location and design. Ideally, a brewery's floors are durable, slip resistant, attractive and sloped for draining purposes.
During operation, a brewery's floors succumb to heavy equipment, foot traffic, spilling, staining, and caustic chemicals. These factors were probably taken into consideration when choosing a high-performance coating, like a heavy-duty urethane, to protect the concrete. The amount of thought that went into the floors and coating initially, should sustain with the same diligence when it comes to maintaining them.
In today's regulated industy an industrial scrubber, such as the Bulldog, holds many advantages over a mop and bucket for keeping brewery floors clean, sanitary, and dry.
Benefits:
Sanitation:
Did you know that the floors are the greatest source of bacteria (besides the floor drain) in a brewery? After the first time a mop is wrung in a bucket, the entire bucket is contaminated with dirty water. From then on the mop is basically redistributing filth. By using a scrubber, one can rest assured that the water and solution used for cleaning the floor are clean. Sitting water can also become a cesspool for bacteria growth. The Bulldog is equipped with extreme suction, scrubbing and leaving the floors incredibly dry.
Productivity:
Much of a brewer's day is spent cleaning. Using a mop and bucket is time consuming. The Bulldog floor scrubber can cover up to 23,800 sq. ft. per hour. This compact auto scrubber is designed to withstand heavy daily use. The offset scrub head and optional remote scrub and vac wand allow you to clean under kegs and in hard to reach spaces with extreme suction. The Bulldog is simple to use, cleans along edges and drains with ease.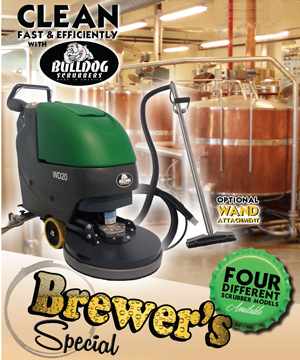 Safety:
Damp or wet floors are a fall hazard for employees and visitors. A Brewers Association tip for avoiding slips: "look into cleaning products that can remove slimes without leaving a slippery surface. In areas that are regularly wet, find ways to eliminate the source of the liquid or reroute traffic." An auto scrubber such as the Bulldog can help remove excess water and clean spills. The Bulldog is equipped with a urethane squeegee that lasts four times longer than a rubber or linatex blade. This oil resistant urethane blade that is soft and pliable leaves floors exceptionaly dry. It also has a built in breakaway safety feature.
Appearance:
Breweries are usually customer facing. This means that the floors should reflect the same time and care put into crafting the prefect brew. Dirty, damp floors can be the unsightly cause of an unwelcome smell to customers who are touring or tasting in the facility. The Bulldog's 20 inch scrub path can hold up in demanding environments yet is compact enough to easily use in bar areas, tasting room floors, and even bathrooms.
Procedure:
In addition to hygienic and visual benefits, properly maintaining the floors will increase the life of the coated concrete floor. Spillage that is left unaddressed can stain and damage the finish of the floor.
Depending on how much soil and spills accumulate in the brewery, a scrubber should be used accordingly. The frequency of maintenance increases with the amount of dirt and soilage that accumulates in the work environment. High traffic areas should be scrubbed daily. All floors should be swept daily and scrubbed at least once a week. The American-made Bulldog floor scrubber is built to withstand this type of heavy-duty daily use.
For general cleaning, use a 30:1 mixture of a neutral PH detergent.
Soft nylon brushes or white pads should be used when cleaning a finished floor. More aggressive brushes or pads can dull a coated finish, though they are completely safe to clean and buff an unfinished floor.
Spills can cause staining, are safety hazards, and should be cleaned up immediately. The extreme suction of the bulldog makes cleaning up spills simple. The optional wand attachment features the same extreme suction and can get even harder to reach places scrubbed dry.
For stubborn stains, soak the area with a 25:1 solution of neutral PH and allow the mixture to soak for 10 minutes before scrubbing. If the stain remains, soak the stain in 100% chemical detergent for 10 minutes before scrubbing. Stains which are a result of chemical attack may never be completely removed without grinding down the surface.
Always wear protective gear when working with chemicals.
Breweries are an American staple. We understand how important community is to brewery owners. At Factory Cleaning Equipment, we believe in products that benefit the community as well. Our neutral PH detergent is environmentally friendly and our scrubbers and sweepers are all American made. Compact, heavy duty, and easy to use- let the Bulldog do the work for you.