In addition to providing commercial and industrial establishments with a durable, professional and aesthetically pleasing flooring option, polished concrete floors have the reputation for being low cost and low maintenance. Low maintenance, however, does not mean that zero maintenance is required.
Abrasive dirt, sand, and other fine particles can dull your concrete flooring's signature shine. Maintaining polished concrete floors by removing dirt and dust from the floors regularly will help you maintain smoothness and sheen. Be sure to choose the right chemicals and application specific equipment to ensure the pristine concrete finish you love.
5 
Tips for Polished Concrete Floor Maintenance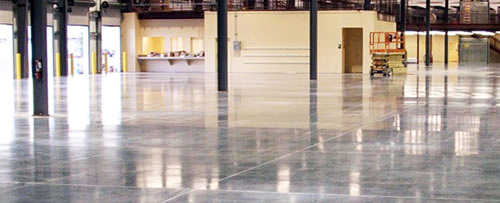 Concrete flooring provides many benefits, and if properly cared for and polished, these floors will continue to look great for many years to come. The floor cleaning equipment experts at Factory Cleaning Equipment, Inc. can help you determine which chemicals, pads, and floor cleaning or grinding equipment will work best to achieve a professional polished concrete surface. Interested in renting a concrete floor grinder? We offer daily, weekly, and monthly rates to fit your budget with a variety of machines for your facility's needs.