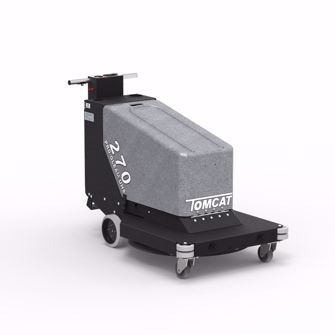 Tomcat's battery-powered 270 walk-behind burnisher is designed to operate quietly while preventing dust from spreading which is great for schools, hospitals, malls, museums, airports, and grocery/retail facilities.  It is a popular choice because of the high-gloss shine it creates on a many different surfaces due to its unique burnishing head and flexible pad design. It can make even the oldest concrete shine like a mirror – fume free – with its 8 hour run time! Did you know you can save money on your electric bill because highly polished floors reflect light more evenly? You'll spend even less money because you won't have to refinish, recoat and machine scrub. Most importantly, dust control comes as a standard feature so there is no need to mop the floor after buffing.   
Tomcat Chart Topping Productivity:
Motor is guarded from dust with a cover and dual fresh air intakes
Improved dust control and collection
Out performs propane
Easy access to parts and pads mean less time maintaining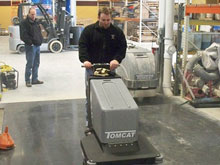 The burnishing deck is completely protected underneath the machine but is easily accessed by tipping back the machine. Preventative maintenance is a breeze with the built-in hour meter. The double wide tires are non-marking to protect the floors and the corner bumpers protect the walls. For additional safety, opt for the backup alarm, strobe light and/or headlight.
 Some popular features include:
XL battery package achieves up to 8 hours of run time
Balanced deck shroud for superior shine and dust control
Optional baghouse filters that last longer
27" pad can offset 4" allowing it to burnish up against a wall
Can polish nearly 250,000 square feet without stopping