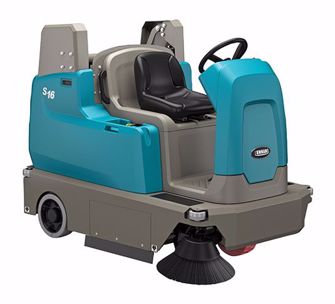 The Tennant S16 is a compact, battery-powered, ride-on sweeper that provides high quality dust and debris control across a wide variety of surfaces. Effectively clean more than 50,000 square feet per hour, both outdoors and indoors, with the versatile S16. Enjoy safety and convenience features, including quiet, fume-free operation, long-term reliability, and high-dump or low-dump configurations.
3 Reasons to Clean with a Tennant S16
The Tennant S16's quality construction and innovative air and broom technology deliver consistent cleaning results, help you to meet OSHA complaint indoor air quality, and support your efforts to improve health and safety standards for operators, employees and customers.
1. Increased Productivity & Reduced Cost
The Tennant S16's wide sweep path and larger hopper capacity allow you to reduce cleaning costs by providing maximum productivity. You can reduce labor costs, increase efficiency, and improve operator effectiveness. 
2. Easy to Operate Floor Sweeper
The Tennant S16 is one of the easiest floor sweepers to operate and maintain on the market today. The backlit control panel includes a 1 -Step™ start button that remembers and engages preferred settings. The 5.3 cubic feet hopper can be emptied quickly and cleanly with a powered high dump that reaches just over 61" or manually with a low dump.  
3.

 Advanced Dust Control & HEPA Filtration

The Tennant S16 can help your facility maintain OSHA compliance and meet the OSHA respirable crystalline silica dust standards. Fume-free operation and superior air and broom technology provide a solution to improve air quality and the overall indoor environment. The multi-stage filtration system helps to capture hazardous airborne dust particles, clean floors effectively, and reduce dust exposure.