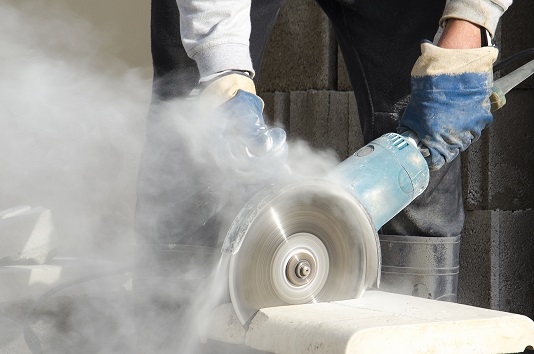 The Occupational Safety and Health Administration (OSHA) significantly reduced the permissible exposure level (PEL) of silica dust to help protect over 2.3 million American workers currently exposed to respiratory crystalline silica dust in the workplace. OSHA silica regulations have pushed many facilities and employers to implement silica dust control plans and obtain necessary equipment.
What is Silica Dust?
Crystalline silica is naturally occurring. It is a basic component of soil, sand, granite, and many other minerals. Quartz, cristobalite, and tridymite are the three forms of crystalline silica. Quartz is the most common form, regularly found in a number of workplaces.
Why is Silica Dust an Occupational Hazard?
Silica becomes a very small, respirable particle when workers drill, cut, saw, blast, crush, grind, or chip objects that contain crystalline silica. The resulting dust is hazardous when inhaled, penetrating deep into the lungs and causing a number of very serious and sometimes fatal diseases. In addition to operating the tools and machines that do the drilling, cutting, sawing, blasting, and the other processes that create respirable crystalline silica, exposure in the workplace can happen in a number of ways. If respirable crystalline silica is left on the ground it could become airborne by moving vehicles or people. Dry sweeping rather than wet sweeping could cause silica dust to become airborne, or dust that contains respirable crystalline silica might not be cleaned up properly leading to exposure.
What is the OSHA Respirable Crystalline Silica Standard?
According to over 50 peer reviewed studies, silica dust, a particle that is typically over 100 times smaller than sand, poses significant health and safety risks when inhaled, potentially leading to lung cancer, silicosis, chronic obstructive pulmonary disease and kidney disease. The final rule establishes a PEL of 50 ug/m3 as respirable crystalline silica, averaged over an 8-hour shift and an Action Level of 25 µg/m3 as respirable crystalline silica, averaged over an 8-hour shift. OSHA requires work practices and engineering controls to help limit silica dust exposure.
Notable Requirements of the OSHA Silica Ruling
After creating an initial exposure assessment, employers are required to form a written silica dust exposure control plan that describes exposure control methods being used. This written plan must:
Identify specific tasks that involve exposure
Explain how workers are protected
And must be implemented by a designated, competent person.
Workers are required to be trained to understand which tasks could result in exposure to silica dust. Any worker that is required by the standard to wear a respirator for 30 or more days per year must be offered medical exams that include chest X-rays and lung function tests. Records must be kept of workers' silica exposure and medical exams.
Important Dates for Silica Standard Readiness
September 23, 2017* – Requirements becomes effective for Construction 
June 23, 2018 – Requirements become effective for General Industry (Including Engineering Controls) 
June 23, 2018 – Medical surveillance required for employees above the PEL for 30 or more days 
June 23, 2020 – Medical surveillance required for employee above the Action Level for 30 or more days 
June 23, 2021 – Engineering controls to be in place (Applies to Fracking Industry Only)
*Extended from initial effective date of June 23, 2017
3 Work Practices To Use In Your Silica Exposure Control Plan 
Abiding by OSHA's silica standard can help save an estimated 600 lives per year and prevent disease. You can limit exposure to harmful silica dust particles by following improved work practices, engineering controls for silica dust, proper training, and frequent OSHA education. Improved housekeeping practices can help workers avoid unnecessary airborne crystalline silica exposure and reduce exposure levels.
Local Exhaust Ventilation: 

To keep silica-containing dust out of the air and out of workers' lungs, OSHA recommends implementing exhaust ventilation methods, including the use of vacuums with HEPA filtration.

Enclosing an Operation:

 Isolating certain work processes can help you to keep

harmful crystalline silica contained, preventing airborne spread and allowing for  more effective clean up.

Improving Housekeeping Practices:

 Wet sweeping, dry sweeping with a HEPA filter, and water scrubbing are three dust control methods

you can implement in your cleaning protocols

Wetting down dust before sweeping it up as an effective work practice to control silica exposure. If you are using a tool with water controls, always use the water flow rate recommended by the manufacturer.
Maintain Dust Control With Industrial Floor Cleaning Machines
As a facility manager, you may have searched for cleaning equipment and ventilation tools that will help you manage silica dust exposure. The key benefit to utilizing floor cleaning equipment in the workplace is dust control. An OSHA compliant industrial floor sweeper or scrubber can help mitigate respirable dust with three types of dust control methods: wet sweeping, dry sweeping, and water scrubbing.
Certain floor scrubber and sweeper solutions provided by Factory Cleaning Equipment can help you maintain OSHA compliance in large warehouses, machine shops, and other facilities with high exposure to silica dust particles. Minimizing dust levels through housekeeping by utilizing the technological advances of modern floor cleaning equipment can help maintain air quality and mitigate respirable silica dust. Contact a floor cleaning expert at FCE and let us guide you in determining which model of floor sweeper or scrubber is OSHA compliant and best suited to meet your facility's unique needs. 
Industries Affected by Silica Dust Exposure
If your industry utilizes sand as part of the manufacturing process, you could have employees that are exposed to respirable crystalline silica. For example, silica dust exposure is common for employees involved in abrasive blasting work. According to OSHA, the main industries affected include: 
Glass manufacturing 
Pottery products 
Structural clay products 
Concrete products 
Foundries 
Dental laboratories 
Paintings and coatings 
Jewelry production 
Refractory products 
Landscaping 
Ready-mix concrete 
Cut stone and stone products
Refractory furnace installation and repair 
Railroads
Hydraulic fracturing for gas and oil 
Asphalt products manufacturing
Additional Resources
Visit OSHA.gov to learn more about the health effects of silica dust exposure
Read the OSHA fact sheet for General Industry and Maritime
Learn more about protecting workers on silica-safe.org
Learn what OSHA says about industrial scrubber and sweeper training