When conscientious choices are important to you, the Bulldog floor scrubber is the green cleaning machine more effective and faster than your mop and bucket. The Bulldog floor scrubber will elevate your daily floor maintenance practices by saving time, money, and increasing the health and safety of your customers and staff. Dirt, oil, water, and other debris are going to inevitably be trekked onto your food market floors. Spilled products and leaky refrigerator units are some of the unforeseen incidents that can cause safety hazards to your customers and employees. By using the Bulldog floor scrubber, daily floor maintenance is streamlined with one compact, easy to maneuver floor cleaning machine that cleans quickly, leaving your floors virtually bone dry.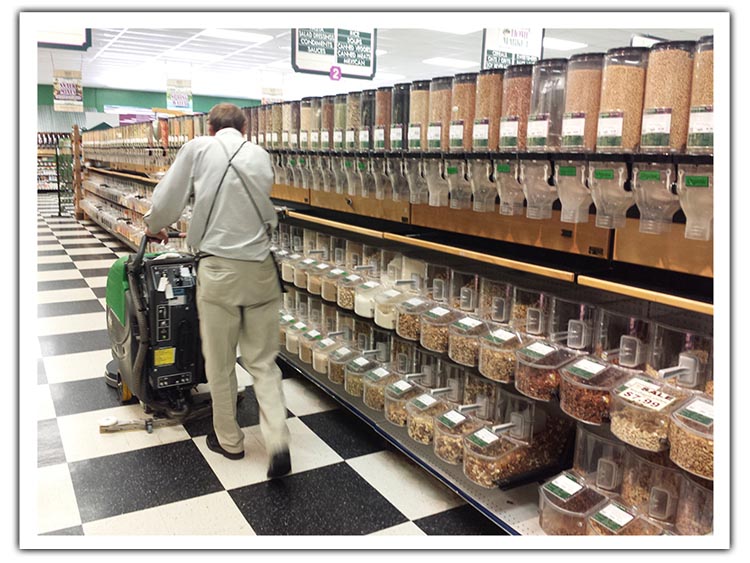 Its Fast!
By working 7x faster than a mop and bucket, this efficient floor cleaning machine easily cleans and dries your floors keeping them free of dirt and debris. Most of the cost of cleaning your floors is the actual labor time it takes to get the job done. Save money and time spent cleaning by using the Bulldog floor scrubber. With the wand attachment, the powerful suction of this machine can reach into the tightest crevices quickly. See how the wand attachment cleans a bathroom in just minutes.
Your Customers Will Notice!
Make a great first impression with clean floors. Keeping your store's floor clean is very important because your floors are usually the first thing your customers notice. The cleanliness of a food distributor is also crucial to building trust with your potential customers, making them feel confident in the products you sell.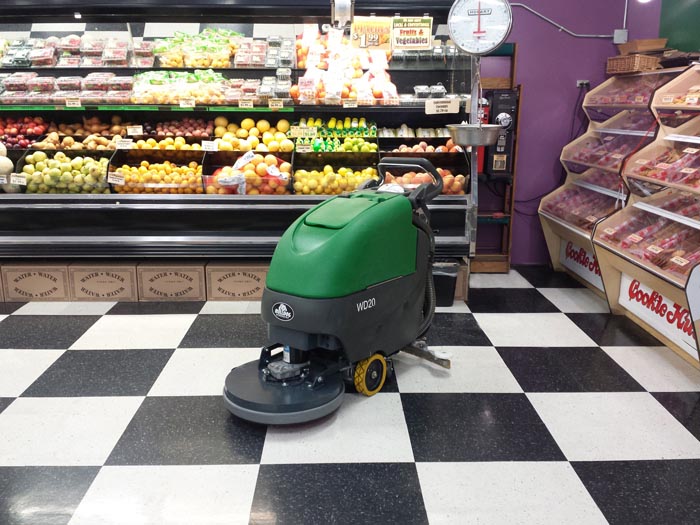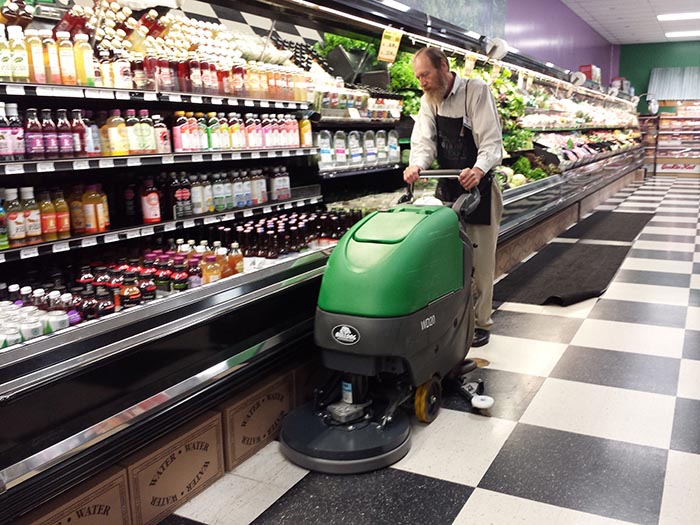 Increase Your Store's Safety!
Increase the safety of your customers and employees. Grocery store floors tend to be a magnet for slip, trip, and fall accidents due to the nature of the industry. In a market with such high foot traffic and access to many products that can easily end up on the floor, it is critical that your staff be diligent in cleaning up potential hazards as soon as they are created. Mops tend to leave water behind while the Bulldog's specially designed squeegee will leave your floors dry. This will increase the safety of your customer and your staff. The Bulldog floor scrubber is so simple to use virtually any member of your staff can clean with it.
The Bulldog scrubber works great with our specially formulated Clean & Green detergent. This neutral PH cleaner that was formulated with US EPA is the preferable environmentally safe option. With Clean & Green, there is no need to sacrifice performance to be environmentally friendly. It can tackle a wide range of applications while leaving your floor free of residue commonly associated with other floor detergents.
The Bulldog Floor Scrubber improves the safety of your customers and staff by quickly eliminating common slip and trip hazards. Staff is easy to train on this maneuverable and compact scrubber unit that can prevent new and remove old buildup on your floors. Safety in the grocery industry is critical to the success of your business. Not only will your store look clean and smell fresh, with the Bulldog floor scrubber harmful bacteria can be quickly removed. To learn more about reducing the risk of slip and trip accidents in your store, this article may help. Call us today for more information on how the Bulldog floor scrubber can save you money, save time, and strengthen your cleaning practices: 800-793-3790