Floor Maintenance for Slip, Trip, Fall Prevention
Providing a safe work environment for your staff is critical to operating a successful business. In addition to the increased insurance premiums and loss of productivity, workplace injuries can be life changing to the employee who is injured. Slips, trips, and falls (STFs) make up the majority of general industry injuries yet most could have been prevented, according to the U.S. Department of Labor. OSHA reports that STFs are one of the most frequently reported injuries and 17% of all disabling occupational injuries result from falls.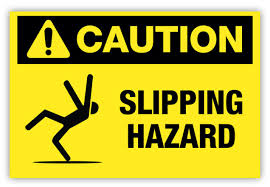 Poor housekeeping and using improper cleaning methods and products are two of the environmental factors that can increase the risk of slips and trips. At Factory Cleaning Equipment we know that our customers value their employees' safety. There are a number of contributing factors and steps that should be taken in order to lessen STF hazards.
Although flooring materials, maintenance, and hazards only make up roughly half of all STF accidents, flooring is our area of expertise so it is what we will focus on for this important topic. For more information on additional safety measures recommended by OSHA, visit https://www.osha.gov/dte/grant_materials/fy07/sh-16625-07/slipstripsfalls.ppt
Some of the more obvious ways to help lessen the dangers of STFs through floor maintenance are to keep work areas free of clutter, clean spills immediately, remove debris and accumulated waste material, and mark uneven surfaces. But did you know that your floor detergent plays a huge role in STF prevention?
Using too much or too little floor cleaning chemical can contribute to STFs. Following label instructions, proper dilution ratios, and using an industrial scrubber with a high performance squeegee can help ensure your floors are left without slippery residue or water. Remember that shiny does not equal clean.
Aside from using the proper amount of detergent, it is also important to use the correct detergent for your particular application. If you are unsure about whether or not your facility is using the right emulsifier, degreaser, or general cleaning chemical on its floor surface contact our experts at 800-793-3790 for guidance on which detergent is applicable.
We have said it before and we will say it again, the cleanest plants that we have encountered all have one important thing in common: they clean on a schedule. Adhering to a set maintenance schedule will keep your cleaning program on track and help prevent hazardous conditions for your employees. If you need assistance setting up a floor maintenance schedule, our experts can help: 800-793-3790.
Take care of your most valuable asset, your employees. Protective floor coatings can help even frequently wet surfaces remain non-slip. Keeping the work environment free from hazard is invaluable for employee productivity and wellbeing. Proper training and education are also very important in helping reduce the potential for STF injury.
For more tips from the National Security Council visit http://www.nsc.org/MembershipDocuments/ST_Falls.pdf.