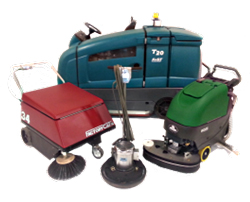 It is no secret that floor cleaning equipment is able to clean floors better and in much less time than it would take to manually sweep or mop. This time savings equates to a reduction in labor costs, saving money for businesses that choose to invest in the right equipment.  If you are searching for a short term, cost effective way to employ the increased productivity of an industrial grade floor scrubber or sweeper, then rental floor cleaning equipment is likely the ideal solution. The ability to utilize modern equipment without spending a large amount of money, however, is not the only reason to opt to rent.
When is renting commercial floor cleaning equipment the better option?
Renting floor cleaning equipment is a smart option for contractors and businesses for a number of reasons. Perhaps your business is solely interested in the occasional deep cleaning and therefore the equipment would spend most of the year unused, then renting equipment as needed is likely the better investment. Rental equipment is also a smart option for businesses that do not want to maintain another piece of equipment, or for businesses that are down a machine during its repair and need a temporary replacement. If a business does not have space to store equipment, bringing in rental equipment only when needed could be a great solution. Rental floor cleaning equipment can be needed following a large event, festival, or parade and is usually best for other one time jobs, such as polishing concrete. Your business may even opt to rent equipment prior to committing to a purchase in order to ensure the equipment meets all of their needs. Finally, following extreme weather, emergencies, or flooding, a floor scrubber rental could help mitigate water damage.
There are many reasons to rent equipment and there is a huge selection of equipment available for rent. How do you determine which machine is the best solution for your job? First, find a reputable company with the experience and knowledge to guide you to the right equipment.
Tips for Choosing the Right Floor Cleaning Equipment Rental Company
Customer Support:
Floor cleaning equipment is designed to simplify the cleaning process. These machines feature different engine types, cleaning path sizes, green and ergonomic options, and much more. That is why it is important to have the expertise of the rental equipment company's professionals to walk you through the process and help you determine which machine would prove to be the most productive in your setting.
Will someone from the rental company be able to guide you to the machine that will give you the most bang for your buck? Will they train your staff to safely operate the equipment? Will someone be there if the equipment is not working as it should be? These are very important questions to ask about the rental equipment company you choose to work with on any sized job.
When selecting a rental company for floor cleaning equipment, choose a company that will be there for your needs. At Factory Cleaning Equipment, our team of experts has over 20 years in the equipment industry and is ready to assist our customers in all of their floor cleaning equipment rental needs.
Our team will even provide a free facility survey that allows our staff to see exactly where the machine will be used, take measurements, and get a better understanding of which machine would work best specifically for the desired job. This is just one example of how we put our customers' needs first.
Whenever we deliver rental cleaning equipment throughout theMidwestand Southeast, an equipment expert will be on hand to explain the different functions of the machine, how to operate it properly, and the best techniques to maximize its productivity. Other companies may simply deliver the machine with a manual.
Price:
The pricing of rental floor cleaning equipment varies from machine to machine, but should not variety exponentially from company to company. At Factory Cleaning Equipment we work hard to give our customers the best deal around. Knowing our industry front and back has helped us stay at the forefront of the latest floor cleaning innovations and has allowed us to offer them to our customers at incredible rates.
Maintenance:
A major benefit of rental equipment is that you do not have to worry about maintenance. The machine arrives to your location ready to produce optimum results. This is one reason why rental equipment is a popular choice specifically for construction companies that constantly need equipment at different sites.
Does your rental equipment company employ its own service department? How are the machines cared for after each rental term is complete? Be sure to inquire about maintenance because it is vital that the equipment arrives in peak working condition in order to get the most out of your time with the machine.
Variety of Equipment:
Choosing a rental equipment company that offers a large variety of equipment is ideal because not only will you have more options to select the best equipment for your job, but finding a trusted company with a variety of quality equipment means that you have found a company you can use for years for a number of different jobs.
From large rider scrubber sweepers to compact walk behind machines, we give customers an assortment of high quality, reliable equipment that can be utilized in a number of settings. At Factory Cleaning Equipment, our rental equipment options are smartly designed and all boasting American-made craftsmanship.
References:  
When choosing the best company for your rental needs, don't just take the company's word for it- take their customer's word for it.
Our commitment to our customers and renting them affordable, high quality equipment has led us to build many long term clients that continue to choose us for rental equipment again and again. Browse our online reviews for the Southeast and Midwest or see what our existing customers are saying on Facebook.
Whether your needs are for long term or short term, the wide array of large and compact rental options at Factory Cleaning Equipment are available on a daily, weekly, or monthly basis. The rental equipment is brought to your site in peak working condition, delivered by equipment experts that will provide operator training, go over the different functions of the particular model, and answer any questions you may have about the machine. The equipment safety and technique training that is provided further ensure you will be able to reap the benefits of the equipment's optimum productivity. With over two decades in the floor cleaning equipment industry, we have a reputation for being a trusted, reliable source of high quality American made machines. Serving theMidwest and Southeast for rental equipment, we provide our customers with knowledgeable guidance and even offer a free facility survey prior to determining which rental is best suited for your unique needs. By surveying your site, our team can confidently determine which machine would offer you the most benefits based on the work environment, square footage, layout, and aisle widths of your site. Giving our customers peace of mind is what has helped our company grow to be one of the largest, trusted distributors of floor cleaning equipment in our regions.