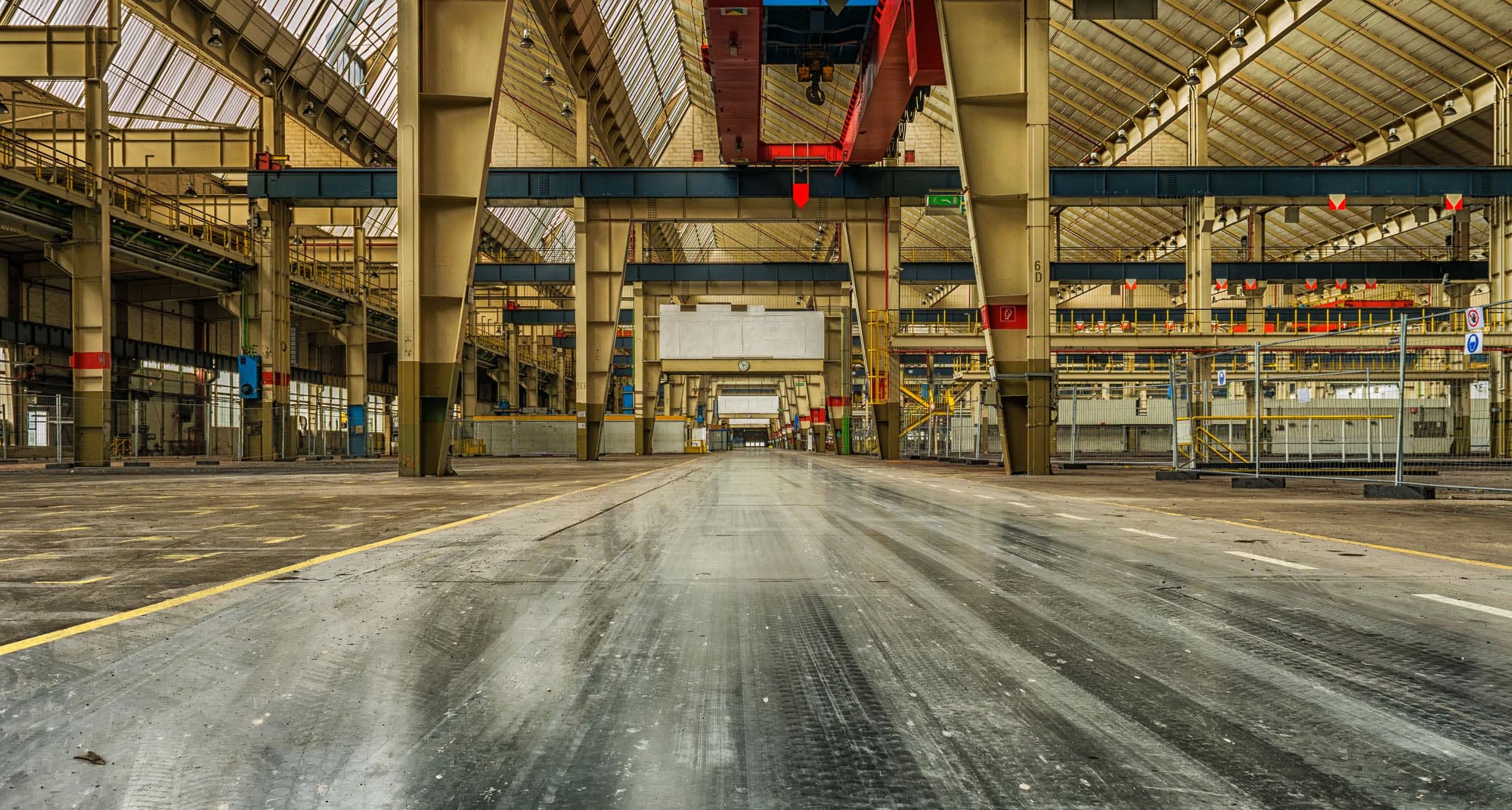 Warehouses, distribution centers, and industrial facilities are often dirty, dusty places. A warehouse-style environment doesn't exactly see much downtime as pallets and boxes and other large items are constantly moving around, and someone's driving heavy machinery that can drip oil or leave tire marks. There's constantly dust and debris getting blown around. It's hard to keep up with, let alone prioritize, floor cleaning. However, when the floors aren't properly cared for, that's when accidents happen. A PowerBoss industrial floor cleaning machine is an effective, efficient and OSHA-approved way to keep your facility's floors clean.
 When a Floor is Not Just a Floor
Safety is always at the forefront of a successful operation. Spills happen, but it's not just the occasional oil spill that can seriously hurt someone. It can be something as simple as a small piece of cardboard that puts an employee in the hospital. A clear line of vision is what employees need so no one can slip or have to suddenly swerve. When a warehouse maintains a high standard of clean, that usually translates into a nicer-looking shop, as well as a higher-producing one. People want to work in a clean facility, and customers want their products to be free of dust and debris. It offers the perfect first impression, shows professionalism, and helps employees focus on the tasks at hand. Who doesn't want higher productivity, higher sales, higher quality of work, and fewer liabilities?
 Save Time, Money, and Effort
PowerBoss industrial floor scrubbers and sweepers last a long time and don't require a degree in rocket science to operate. Even for large facilities, one staff member can easily handle the job so the cost of ownership is low. The PowerBoss Nautilus in particular features a prolonged run time, which means less draining and refilling than competing Industrial floor scrubbers and sweepers. The stainless-steel design means minimal corrosion and therefore a long life. Also, you'll know you're cleaning thoroughly in one pass, because of the quick-view squeegee and the edge scrubber that gets right up close to the walls. The hydraulics raise and lower the main and side brooms, but it also has one of the most fuel-efficient (and therefore cost-effective) engines on the market. The total spend is also manageable, as the machines can be rented or leased if the full cost isn't in this quarter's budget.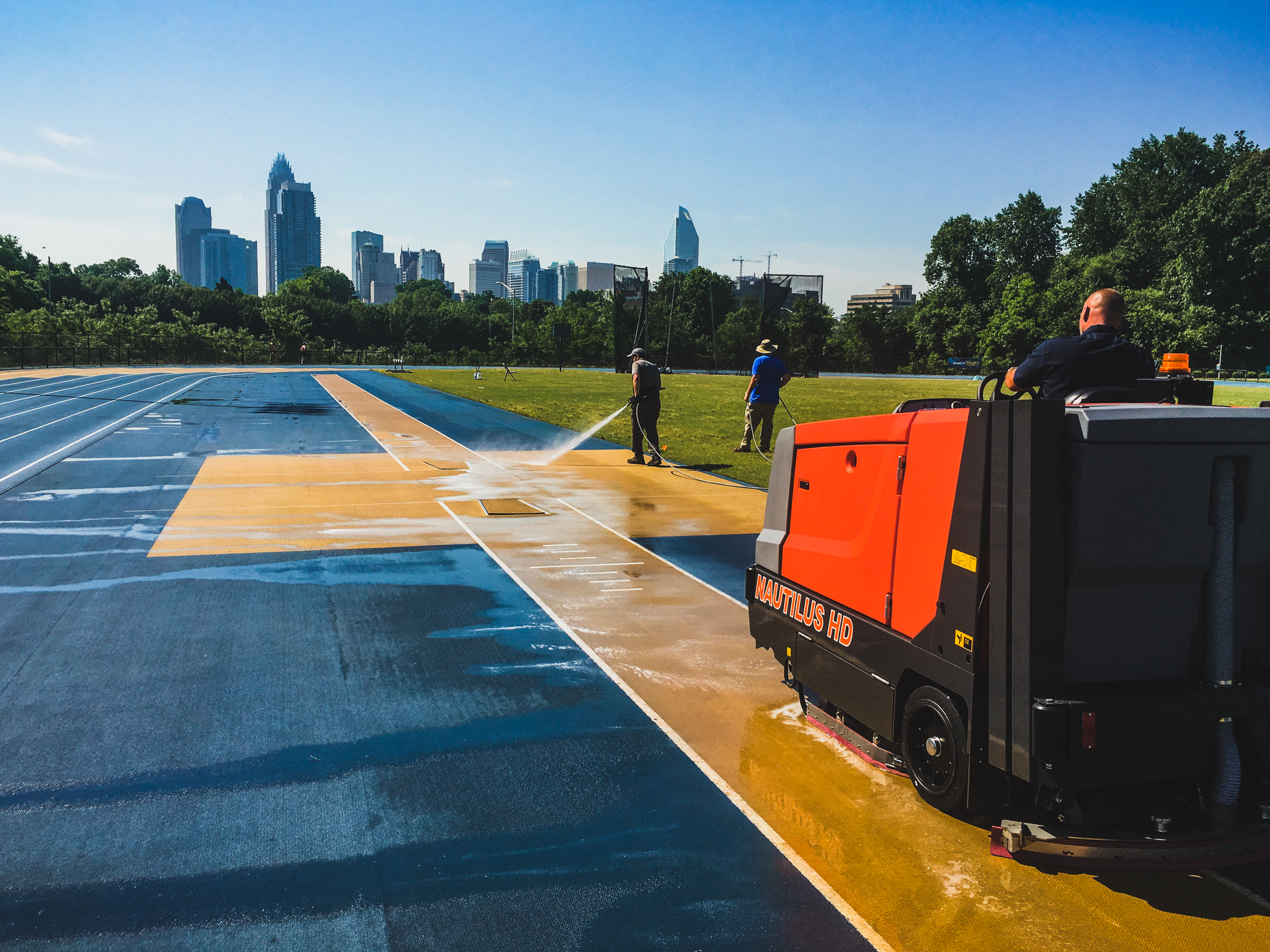 Adding Thermal Green Technology to your Nautilus can be a great choice for lowering your energy cost and decreasing your carbon footprint by eliminating the need for additional energy to heat the cleaning solution. The Nautilus without TGT only supplies water temperatures of about 60-70 degrees but the patented TGT hot water system heats the solution to as high as 160 degrees. The high temperature with Thermal Green Technology helps the machine clean better by more effectively breaking down dirt, further eliminating the need for additional detergents in many cases. TGT sets the Nautilus far above other industrial floor scrubbers and competing devices.
Your Next OSHA Inspection
PowerBoss offers several OSHA-compliant floor sweepers, which means they're right up there in gold-standard territory. Your upcoming OSHA inspection never seems far away, and deadly silica dust is high on the list of irritants they're looking for. OSHA expects that hundreds of lives can be saved by reducing silica dust exposure. Specially-equipped PowerBoss industrial floor sweepers boast a 5-step dust control filtration system to keep your facility compliant. It effectively moistens, uses HEPA filtration, and picks up dust and debris, getting it off surfaces and out of the air. When the machine does all the hard work for you, what's not to love?
Keeping your facility's floors clean is necessary for a safe and productive work environment, and we completely understand it can sometimes take more than just a new piece of equipment. It can sometimes involve a new mindset. Be sure to create and stick to a schedule that works for you and your staff. Deep cleans may only be required once a week or once a month, where daily maintenance jobs can be assigned once a day. Every space's needs are unique. Also, a little goes a long way. The old saying goes, "heavy hands make light work" applies here. The more people you have helping keep the place picked up, the less work it will be for the person manning the machine. Trash and recycling should always go in their respective bins, there should be places for packing materials, etc. When the shop is organized, it's easier to keep the floors clean. Investing in an industrial floor scrubber, industrial sweeper, or an industrial floor cleaning machine from PowerBoss is the first step toward a safe and productive workspace.