At Factory Cleaning Equipment, we are proud to supply businesses with quality, American-made floor scrubbers and sweepers. The brands we stock: Factory Cat, Tennant, and Bulldog, are manufactured right here in the USA.
Buying American-made is good for business. In addition to keeping jobs in America it ensures high labor standards and regulated product safety standards. Another great value of American-made cleaning equipment is that your business is supplied with lasting quality. Wear items such as brushes and other replacement parts from machines manufactured in America are readily available for fast shipment rather than being shipped in from overseas. This means less costly downtime to your machine, a real time saver.
The brands we sell continually surpass customers' expectations. Investing in quality can save your business money. The best value is not always the lowest price.
Feature Brands: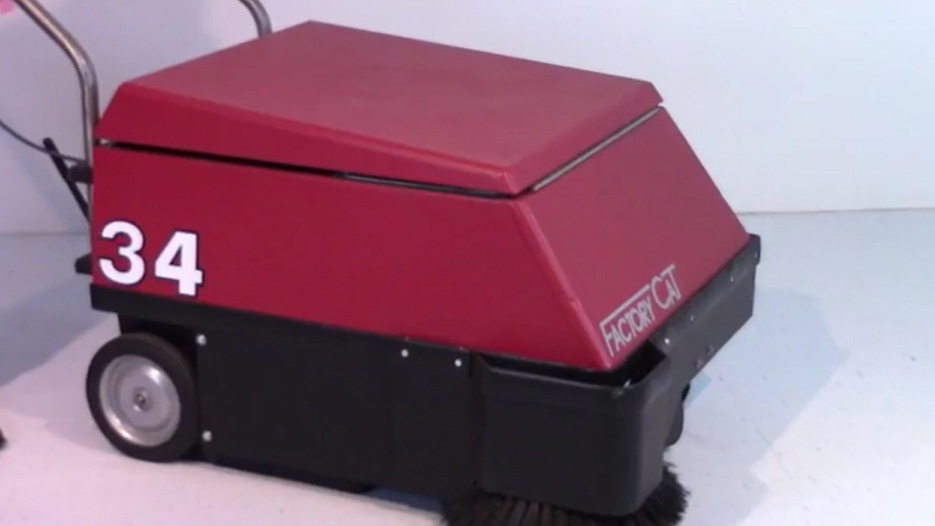 Factory Cat was founded in 1986 in Racine, Wisconsin and has built a reputation for providing superior products and support. The brand has remained committed to supporting the American economy through its expansion to become a global supplier. Environmentally conscious, Factory Cat understands the value of longevity, placing a huge emphasis on long term customer satisfaction.
The Factory Cat Model 34 Sweeper pictured to the left is a 15 year old rebuild that works as good as new. Don't take our word for it, watch it in action.
Factory Cat machines are known for their durability. Their steel construction make them virtually indestructible.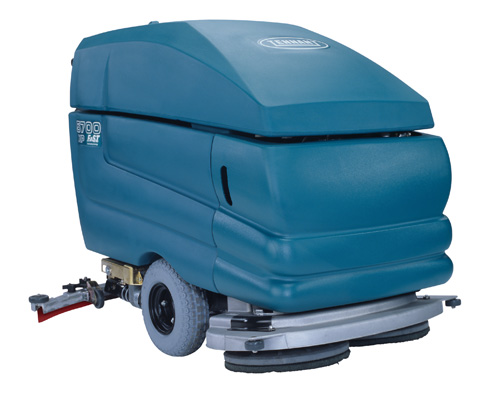 Tennant was founded in the late 1800s in Minnesota. Today, the inventive company has been honored with many awards including: "Top 100 Ethical Companies" by Business Ethics Magazine, "the Best 100 Companies to Work for in America" by FORTUNE Magazine, "100 Best Corporate Citizens" by Business Ethics Magazine, and "America's Most Trustworthy Companies" by Forbes Magazine. The honors that Tennant has received is a testament to their commitment to responsible practices in their mission to "deliver solutions to create a cleaner, healthier, safer world."
Much like Factory Cat, a Tennant Machine can be rebuilt to virtually new condition, which is telling of the quality. Tennant machines are very well made and with the proper care, will last for many, many operating hours.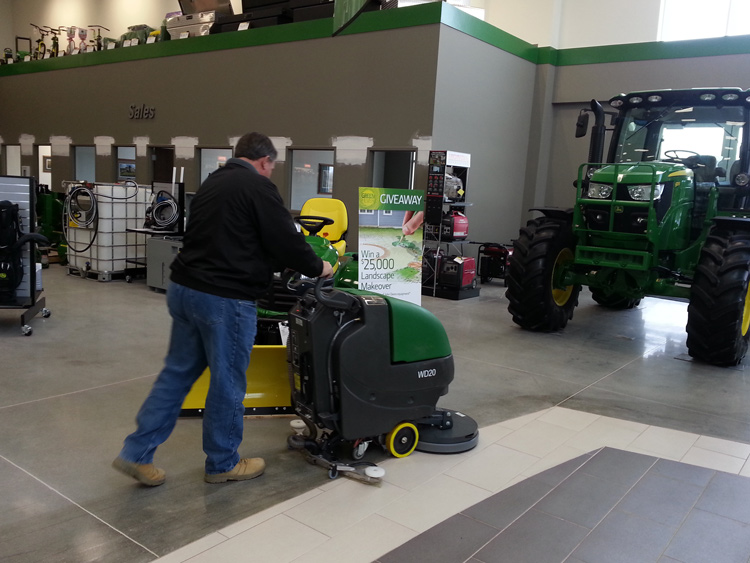 Bulldog is another brand made in the USA, headquartered in Illinois. For smaller applications needing heavy duty floor cleaning, the Bulldog has become known for its ability to withstand daily use in tough environments. These reliable compact machines feature a stainless steel frame and cast aluminum squeegee assembly, virtually eliminating the chance of rust. Easy to repair, the Bulldog is built to last. See it in action!
In addition to quality of product, the lifespan of a floor scrubber or sweeper has much to do with the operator of the machine. At FCE, all of our equipment comes with professional training and instruction to allow you to get the most productivity out of your machine. Our satisfied customers have trusted us for over 20 years due to the fact that we provide quality equipment and excellent service. We are proud to stand behind theAmerican-made products that we feature, and you would be too.
Contact Us today for a free demonstration: 800-793-3790