Purchasing floor cleaning equipment can be costly. You're not sure where to start – what am I going to pay? What is the cost of ownership?
We wish we could tell you it is that simple but with so many options, it just isn't. So let's go over some things to consider when you begin your search for a floor scrubber and/or sweeper:
• How is the machine powered?
Battery, cord electric, gas/diesel/LP engine all have different price points.
• Does the machine have a drive motor?
Wheel driven machines (wheel propelled) are generally more expensive but they have more power and require almost no physical effort. Brush driven machines are propelled by the rotational friction of the brush on the ground so they do require a bit more effort to drive but come in at a cheaper price point.
• Does it have a brain?
Well no, science hasn't got there yet but it could have an onboard computer! This technology gives the machine the ability to be diagnosed via software and can make the machine smarter. While onboard computer systems do add on to the price of the machine, if used correctly, monitoring and planning accordingly can save you money.
• Do you need a walk-behind or a ride-on machine?
Riders can be battery or engine-powered but if you do decide to get a battery-operated one, know that rider batteries are very expensive to replace. The more moving parts you have the more that can go wrong. Not only is the initial investment higher with riders, the cost of ownership is higher, too.
• On that rider – is there a high dump option?
This gives you the ability to hydraulically lift and dump heavy debris. This too adds cost to a machine.
• What type of brush deck do you want?
Cylindrical brushes can sweep and scrub and are priced higher than the typical disk machine. The more affordable disk scrubbers do not have as many moving gears involved and are just used for scrubbing.
• Are you looking for an American-made product?
The manufacturing location is going to have an effect on price.
• Are financing and renting options available?
Financing or renting is available and is a great alternative to purchasing new equipment outright.
• What is the cost of ownership?
We're breaking this one down a bit more because there are some significant differences in maintaining walk-behind and rider machines. Here are some items we check on our Planned Maintenance checklists: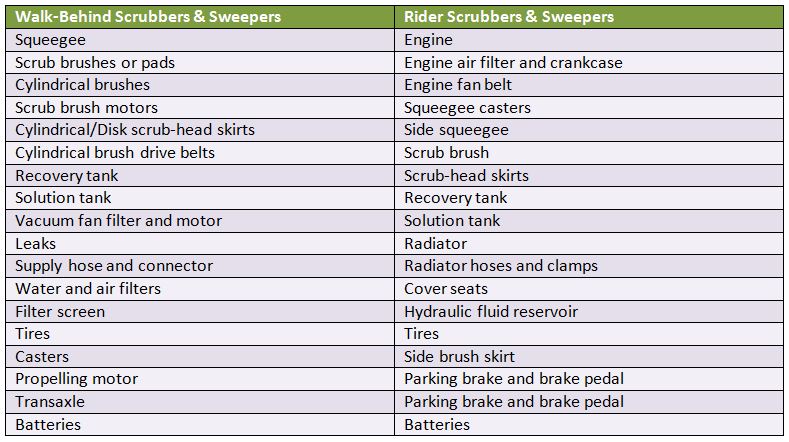 That is a lot of parts, right? Some of those items may only cost a few dollars to replace or repair, but when it comes to engine maintenance, costs can increase. Batteries are going to be one of your most expensive parts replacements but as long as you charge them correctly, they can last you for years. A majority of our new equipment comes standard with a 3 years parts and 1 year labor warranty as a protection against manufacturer defect.  
We know these details can be overwhelming when you start looking for floor cleaning equipment. Let us help you pick the right machine for your needs. Don't forget, you can always rent for a few months to make sure you're seeing the benefits you'd hoped for.