The end is near! The end of pollen season that is. It has been floating its way through the air, infiltrating your nostrils, cars, homes, and everywhere else you go.

Why is pollen so irritating?
According to the Allergist, tens of millions of Americans (30-40% of us) suffer allergy symptoms like sneezing, congestion, itchy throat, and wheezing. Studies show that pollen season gets worse every year because there is more carbon dioxide in the air, causing warmer weather, giving plants longer lifespans – more time to coat everything yellow. As pollen is inhaled or ingested in any way, it causes our immune system to react. That reaction is what makes us sneeze, cough, or even get asthma.
How do I get rid of it?
Here are some tips to see you through to the end of the pollen season:
In the safe zone, your home - start by keeping windows closed so the tiny, yellow particles cannot get inside. Small changes like wearing larger sunglasses, washing bedding in hot water, or using eye drops are easy enough to implement and maintain for a few months.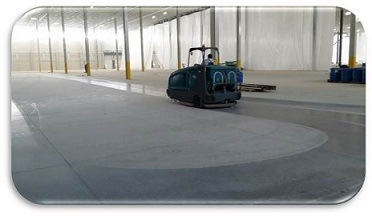 Now, let's not forget about the place you spend most of the day – your workplace. Large sunglasses probably can't save you here. Those office doors or service bays are opening and closing all day! You can wipe down counters and other surfaces but do not use a broom on those floors unless you'd like to kick up some more pollen. Even vacuuming has been found to release some bacteria, dust, and allergens back into the air. Using a floor scrubber with a cleaning solution is a safe and effective way to stop tracking pollen throughout your workplace, to your car and then home. You can choose a scrubber with a scrub range of 18" all the way up to 48" in a single pass. The idea is to not only make floor cleaning easier by saving time and energy, but it is also more effective than other methods like a mop and bucket. If you're concerned about indoor air quality, consider upgrading to a floor scrubber and/or sweeper.
Implementing a floor cleaning program is a way to reduce the environmental impact of your facility while improving its public image and work conditions. Before beginning a cleaning schedule or policy, keep track of electric, gas, and water bills so you have something to compare your new efforts to. Following a cleaning schedule or policy confirms that you're dedicated to providing better workplace conditions for your employees.
For assistance beginning your sustainable cleaning regimen, contact the floor cleaning experts today @ 800-793-3790.