When it comes to choosing the right brush for a floor scrubbing project, it quickly becomes evident that there are more kinds of brushes to choose from than you may think. In this article we will go over all of the different types of brushes on the market today, as well as their appropriate uses.
First things first, there are two different styles of brushes, disk and cylindrical. Yes, cylindrical and disk brushes have their differences, but when it comes down to it they both do an excellent job at cleaning a floor. One benefit of owning a floor scrubber that is equipped with a disk brush styled scrub deck is the ability to use the machine to buff the floor. This would be achieved by running the machine with buffing pads rather than brushes.
Although not technically a brush, the first item we will talk about are scrubbing pads. Scrubbing pads can be used on a floor scrubber via a pad driver. A pad driver is simply a tool that holds a pad in place and attaches to your floor scrubber the same way a disk brush would. Pads come in all different sizes and intensities. For the purposes of this article we will discuss the three main types of cleaning pads.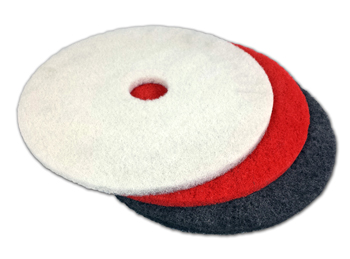 White
Soft, non-aggressive cleaning pad used to clean and polish delicate surfaces.
Red
Medium duty, mildly aggressive cleaning pad used for general purpose cleaning.
Black
Most aggressive pad used for stripping or cleaning heavily soiled floors.
As mentioned earlier, cylindrical and disk brushes ultimately both do the same thing, which is clean your floor. There is much debate over which method is best, but still remains to be undecided. Rather than giving an opinion on which method works best, we will quickly outline the key differences amongst the two options.
Disk Machines
Brushes are typically cheaper in cost than cylindrical
Easier to maintain and often times longer lasting than cylindrical brushes
Ability to deliver a higher down pressure
Capable of using brushes or pads
Cylindrical Machines
Ability to sweep larger debris into a hopper, less of a need to pre sweep
Great for cleaning uneven surfaces and or grout lines
Brushes usual run at higher rpm
Now that you know the difference between cylindrical and disk brush performance, we can discuss the options available for both types of brushes. The two most popular materials used to make a brush for a floor scrubber is Nylon and Poly (polypropylene). Standard poly brushes are amongst the most popular, mainly due to their affordability. Given below are the most common steps in brush intensities along with their appropriate use.
Soft Nylon
Softest among the most common bristle brushes
Great for light duty cleaning (will not scratch delicate surfaces)
Can withstand a textured floor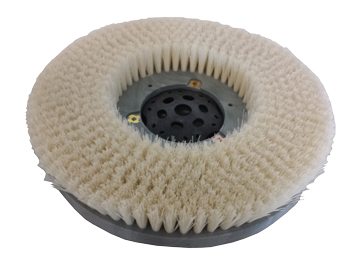 Soft Poly
A step up from nylon
Ideal for light to medium duty cleaning
Great general purpose brush
Least expensive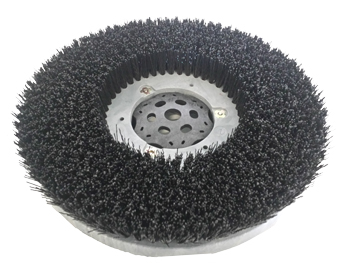 Light Grit Poly
Equipped with silicon carbide grit
Great for aggressive cleaning purposes
Capable of removing heavy buildup/stains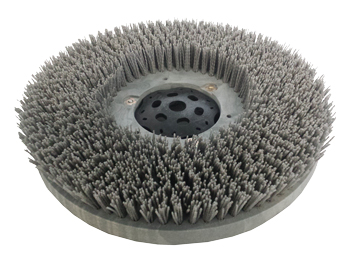 Heavy Grit Poly
A step up from Light Grit
Great for extremely aggressive cleaning purposes
Capable of removing thick heavy buildup/stains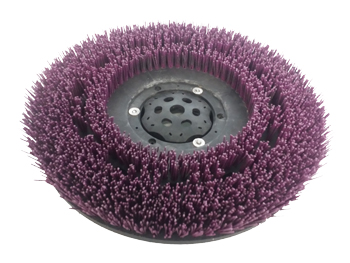 The last topic to discuss is proper brush maintenance/care. By taking the appropriate steps you can assure yourself the longest life possible on your investment. Like anything in life, if you want your scrub brushes to last, you have to take care of them. The best possible way to get the most out of a set of brushes is to rotate them on a weekly basis. Not only will this extend the life of the brush, it will make certain your brushes are effectively scrubbing the floor. Over time, if you do not rotate the brushes on your floor scrubber the bristles will start to bend in the opposite direction that the brush spins. Once this has happened, a brush loses most if not all of its scrubbing power.
Hopefully after reading this you have a little better understanding on the key differences in the many types of scrub brushes in the market and are able to make a wiser decision when it comes to choosing the right brush for the job.
By Rick Schott
---
Circle the author on Google+.