Have you considered buying a new scrubber but can't decide if it is within budget?
Unable to predict the cost of maintenance that your new machine may require?
Worried about costly downtime?
With our Stress-Free Full Maintenance Rental Plan, you can rest assured that one fixed monthly payment will guarantee maximum equipment uptime and performance. Your new Factory Cat Magnum, 30" Heavy-Duty Floor Scrubber will be serviced with manufacturer recommended maintenance at absolutely no additional cost to you. This plan includes the replacement of brushes, belts, and other commonly worn out parts. Delivery and operator training are also included. All that you are left with is paying your monthly bill and we take care of the rest.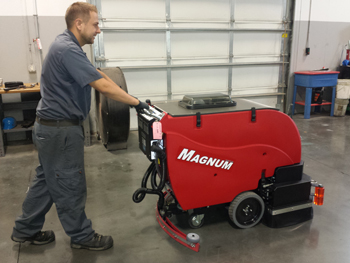 Benefits of long-term rental include:
Maximize equipment uptime and performance
Full maintenance plan, including parts and brushes
Operator training on equipment
No unexpected costs
One fixed-rate monthly bill
Call Us Today for a Free Demonstration: 800-793-3790
Known for its durability, agility and performance, ideal settings for a Factory Cat Magnum include: car dealerships, food and beverage facilities, machine shops and metal fabrication facilities to name just a few.
The 30" Heavy Duty Magnum is available as a disc or cylindrical machine. The Disk model offers a gimbaled brush drive and 35% more scrubbing power than other machines. The Cylindrical unit reduces or eliminates labor intensive pre-sweeping by sweeping debris at the same time that it scrubs. Other options on the Magnum include: maintenance free batteries, spray wand, vac hose, manager lockouts, concrete or marble polishing, onboard charger, HD package, non-marking tires and more.
This machine is American-made in Racine, Wisconsin. Its steel frame and stainless steel construction is a testament to Factory Cat's commitment to producing quality, long lasting, equipment. The heavy duty front bumpers give added protection to the beefed up scrub head. A large clean water tank means extended run time between refills. The waste water tank is designed for easy cleanout and includes a removable debris strainer that is a real drain saver. With up to 250 lbs. of down pressure, the four point stance and oversized wheels allow it to remain stable over rough terrain. Though a Factory Cat is constructed to withstand harsh chemicals, chemicals are not included in this rental plan. Nor is abuse.
For more information on a Long-Term Rental, contact our team of specialists today: 800-793-3790.