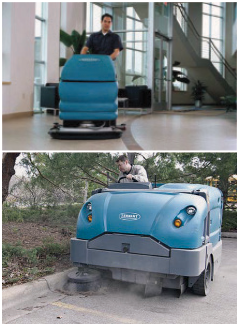 This spring is the perfect time to upgrade your cleaning fleet with an incredible deal on American-made, award winning Tennant floor cleaning equipment.
Now through the end of June, receive an All-Time Low Financing Rate of just 2.9% on all Tennant new machines. That's not all! Protect your investment while taking the guesswork out of floor scrubber ownership costs by taking advantage of our Full Maintenance lease option available on all Tennant new machines, also through June. There has never been a better time to invest in the safety, sustainability, and image of your business.
Tennant is one of the most well know, sought after brands in the floor cleaning industry for good reason. Tennant scrubbers and sweepers are innovative, hard working, and reliable. The craftsmanship and state-of-the-art technology found on these American-made machines are what has helped earn Tennant accolades as a recognized leader of revolutionary cleaning equipment.
The high quality construction is one of the reasons why when you purchase a new Tennant machine the cost to maintain it could be an afterthought. Even though the maintenance costs over time on new equipment are generally lower than when you purchase used, we have gone ahead and removed all the guesswork for you. Now through the end of June you can choose a Full Maintenance lease option for added convenience. With our experienced factory-trained technicians dedicated to maintaining your machine teamed with the best warranty in the business, you can rest assured that your new equipment can work hard for you for many years to come.
Sustainable cleaning practices can be enhanced with Tennant's ec-H2O NanoClean™ technology. This patented technology, only available as an option on Tennant floor scrubbers and scrubber-sweepers, uses electricity to convert water into a cleaning solution, eliminating the need to use cleaning chemical to remove soils from the floor. The ec-H2O NanoClean™ system is an upgraded version of Tennant's already acclaimed ec-H2O™ technology, offering the same green cleaning benefits as the original, but now working on even more soils and in more applications.
Factory Cleaning Equipment, Inc. has been providing quality floor cleaning solutions that meet our customers' unique needs for over twenty years. Our experienced professionals have the resources and knowledge to help guide customers to the right equipment. Take advantage of a Free Consultation for recommendations on ways to improve your cleaning program. Large or small, indoor or outdoor, industrial or commercial, we offer a large selection of compact walk-behind and large rider Tennant floor cleaning machine for a variety of applications.
Schedule a Free Demo today: 800-793-3790