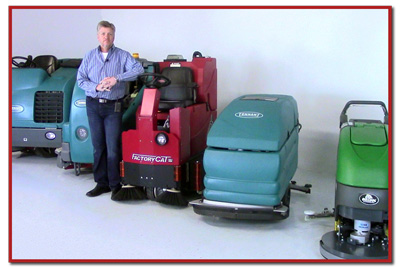 In most warehouses and other industrial or commercial facilities floor maintenance is an integral part of the job. Whether it is necessary to maintain the appearance of the flooring or create a safer work environment by reducing slip, trip, and fall hazards, leasing or purchasing floor cleaning equipment in these settings is a smart investment. However, not all applications require regular cleaning. Sometimes rental equipment is the better financial choice.
Intermittent cleanings, special projects, and preparing for an important customer are common times that our customers will opt for rental equipment. Whenever a machine is needed for a short duration, a rental is usually recommended. In the construction industry, for example, rental equipment is often brought in once construction is complete or in between the different the stages of construction. In this scenario, a rental would be the better option. In addition to being the best choice when the equipment will not be used frequently, there are some lesser known reasons why choosing rental equipment can be beneficial.
3 Unexpected Ways a Rental Machine Can Help Your Business:
1) Trialing a machine prior to leasing or purchasing equipment. A rental period with a particular model can help businesses evaluate equipment, learning the pros and cons from its operators and managers, prior to committing to the purchase. Floor cleaning equipment is an investment that will continue working for your company for a long time so it is always a good idea to understand the unique needs of your industry. At Factory Cleaning Equipment our team of experts will help guide you to ergonomical and efficient equipment that is best suited for your particular application. With that being said, a trial period could still be used as a determining factor when deciding between models.
2) There is no need to store the equipment when utilizing a rental. Space is a major concern for certain industries. For example, having storage space to store large containers of cleaning chemical is not ideal for many businesses and is one of the reasons why we offer an array of floor cleaning chemicals in ultra concentrated form. The proper storage of a machine may not be feasible for your business. When using a rental, the machine is brought in when needed and will be picked up when the job is complete so storing the equipment between uses is not necessary.
3) No maintenance required. When determining the cost to lease or own a floor scrubber or sweeper, regular maintenance should be factored into the budget. This is not the case when using a rental. A rental machine from us will arrive at your site working at top performance in order to effectively get the job done. Using the construction example from earlier, even if the construction company completes many projects throughout the year, renting equipment would still likely make the most sense. Not only is the equipment brought to the site, but the machine will also be delivered in peak working order as to not slow down a project. At Factory Cleaning Equipment our many options of rental equipment are some of the best machines on the market and our in-house service professionals continually ensure that they remain in excellent condition.
When choosing a company to rent floor cleaning equipment from, always choose a reputable equipment distributor. Our customers know that choosing one of our rental machines guarantees that they will be satisfied with the performance of the equipment; otherwise we will bring them a new machine. If your business finds itself renting equipment more and more frequently or for longer periods of time throughout the year, it may be time to determine if a lease or purchase would be a wiser investment. For assistance with any of your floor cleaning equipment needs, contact the floor cleaning equipment experts today: 800-793-3790.