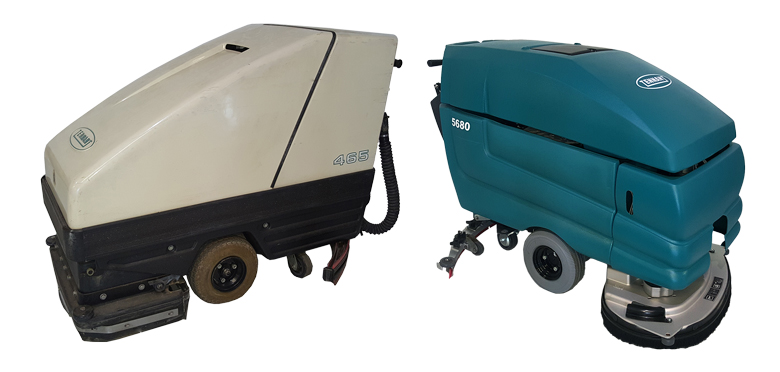 The first automatic floor scrubber was invented in the middle of the 20th century, creating a better and more efficient method for cleaning large areas. This innovation meant it was now possible to clean without having to manually scrub the floors, saving on labor and reducing the amount of time it took to finish a cleaning job. With significantly faster dry times, floor scrubbers also made it possible to safely walk in the area that had been cleaned almost immediately after the scrubbing was complete. Floor scrubbers improved productivity and employee morale. Over the years, floor scrubbing machines have improved as they have evolved, and will continue to do so as modern technological advances are realized.
Faster Rotational Speeds
Early machines were heavy and slow, but by the late 1950s the first high speed and variable speed machines were introduced. At this time the machines could rotate at a speed of 175 to 350 rpm. Most cleaning professionals had become aware of the efficiency and effectiveness of utilizing floor scrubbers by the 1970s and manufacturers had made significant advances in automatic scrubber technology. By the 1970s, the rate that the floor scrubber brushes could rotate jumped to 750 to 1,000 rpm.
Improved Brushes and Pads
These higher speed machines caused the brushes on the floor scrubber to become worn out quickly and as a result grit brushes and synthetic fiber cleaning pads also appeared in the 1970s. This improvement created a more versatile machine that could scrub according to the specific application. Early machines used either vegetable fiber brushes or steel wire. Steel wire is extremely aggressive while natural fiber brushes are used today for light polishing jobs or on delicate surfaces. Natural fiber brushes have the shortest wear life and are the least aggressive. By creating a variety of brushes and pads for floor scrubbers, this innovation greatly improved the effectiveness of the machine.
Operator Friendly
By the 1980s, electronic speed controls were added to the machines. More ergonomic features were introduced in the 1990s, like the electronic lifting of brushes and integrated controls to help reduce operator fatigue and improve their comfort and safety. Ride-on scrubbers were introduced in the 1990s for increased productivity.
Environmentally Friendly
Although early machines used less water and less detergent than what would have been used to clean manually, water conservation was not something these early machines were designed for and their recovery systems were very basic and inefficient. By the 2000s, floor scrubbers had become greener, using less water and less or no chemical. Noise reduction technology was introduced. Earlier machines allowed water to flow from the machines even when the machine was turned off. More and more machines in the 2000s begin to include technology to control water flow so that water only flows out of the machine while it is in operation.
Today and Tomorrow
The trends for today include even more sustainable equipment such as machines with the ability to change modes from economy to bursts of increased power depending on the soil level on the floor. Machines with fewer parts are helping to reduce the cost of floor scrubber ownership. Other innovations are machine location tracking, diagnostics, usage and performance data. Size reduction, improved maneuverability and mobility have become highly desirable. These improvements were brought to life in our line of compact, highly maneuverable Bulldog Floor Scrubbers.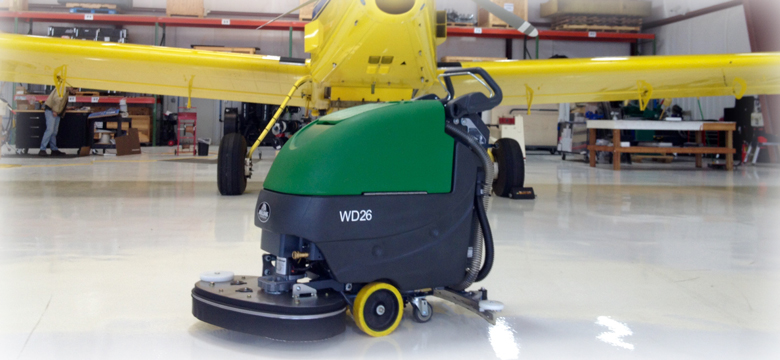 Floor scrubber trends and technological advances are important to us at Factory Cleaning Equipment, and we continually strive to remain on top of the latest in floor cleaning equipment in order to bring our customers the most innovative solutions in the industry. From our service professionals being able to repair and rebuild some very complicated operating systems to our sales team understanding how these environmental, ergonomic, and technological improvements can be best utilized for unique customer needs, at Factory Cleaning Equipment we have the knowledge and experience to harness the latest product developments to save your business money. For more on how floor cleaning equipment could reduce your labor costs, contact our team of specialists today: 800-793-3790