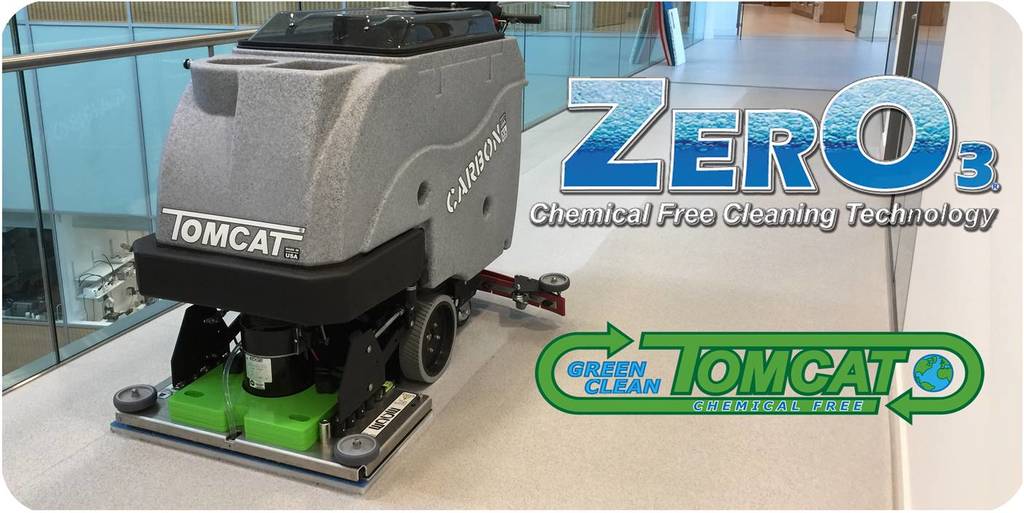 Clean, Strip, or Sanitize in a Single Pass without Chemicals
Innovation #1: Chemical Free Stripping
Phrases that come to mind when I think about traditional methods of maintaining large areas of VCT (vinyl composition tile) tile include "time consuming", "dangerous chemicals", "slippery floors", and "horrible work". A number of years ago the cleaning industry discovered that using an abrasive pad on an orbital floor sanding head could make this process much easier. The idea is that the orbital head removes 2-3 coats of floor finish without using any chemicals. It basically sands the finish off wet or dry. In most cases the floor can then immediately be re-coated to look like a newly finished floor. The labor and chemical savings was startling, reducing VCT floor maintenance costs by up to 75%. This was an amazing break-through for the industry. Thousands of auto scrubbers fitted with oscillating heads were sold.
It didn't take long for a flaw in this new technique to emerge. These oscillating scrubbers turned out to be high maintenance. In fact, about every 100 hours a major overhaul of the scrub deck was necessary. The motors were mounted off center with rubber grommets (isolators) to cause the scrub head to oscillate. These isolators, with low quality bearings, quickly wore out and broke off and changing them took hours. Many machines were simply parked and put out of service due to a higher maintenance demand.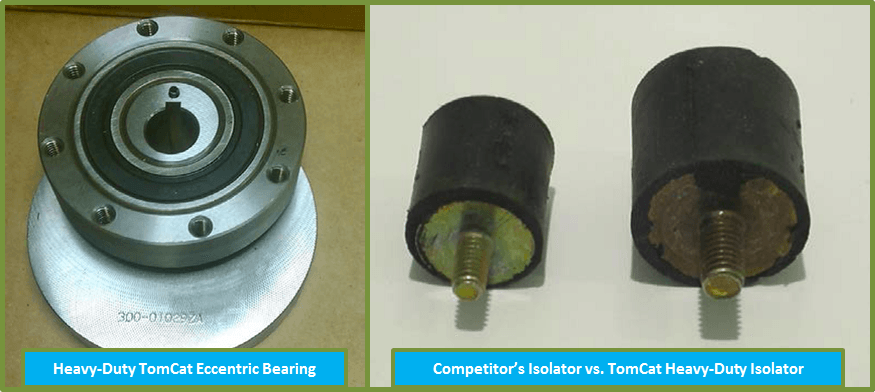 TomCat may not have been the first to market this idea. However, they are the first one that has brought to market a machine that can stand the test of time with heavy use every day. The most important components are the bearings and the isolators (see above). The TomCat's first scrub head over-haul is at 1500 hours! Their Heavy-Duty Isolators are fitted in a way that they can be easily changed in minutes, not hours. Many more isolators are used on the TomCat to reduce vibration and wear on the machine. The scrub head itself is made of thick aluminum rather than thin plastic. This head is powerful enough to accommodate two extra 15 pound weights achieving down pressure up to 250 pounds depending on the unit.  What they have created is an industrial duty machine that can be used for everyday cleaning, removal of floor finish, or sanding off coatings like urethane or epoxy.  
Innovation #2: Chemical Free Cleaning and Sanitizing
For decades, the food processing industry has used ozonated water as a disinfectant in many food and meat processing facilities. Routinely these plants mist ozonated water over their production lines to eliminate harmful bacteria. By oxygenating water and exposing it to an electrical charge, oxygen molecules bond and create ozone water, also known as Aqueous Ozone. Water with ozone bubbles suspended in it has been proven to be a great cleaner and a powerful disinfectant. With a short 30 second dwell time it has been proven to kill 99.999% of bacteria like E.coli, Staph, Salmonella, and dozens of others. It also leaves a fresh scent similar to the one you notice after a thunderstorm. Lightening in a thunderstorm causes the same process to occur.
TomCat's innovation is not inventing this technology. The innovation is that they have now installed units that make Aqueous Ozone on their automatic scrubbing machines. The first benefit is that the Aqueous Ozone is a powerful cleaner without using any chemical. Dirt bonds itself to the O3 molecules so that the squeegee can effectively wipe it away. Imagine the benefits of your hard floors being exposed to this safe and effective cleaning power daily. Most cleaning professionals would agree that the bottoms of your shoes and floors are among the most bacteria layden surfaces in any building.  Sanitizing your floors daily can significantly reduce disease and odor causing bacteria in your facility.
The only way to truly appreciate the cost savings and health benefits of these remarkable technologies is to bring one of these machines into your facility. Factory Cleaning Equipment, Inc. is offering a FREE GREEN FLOOR CLEANING SEMINAR to anyone interested in reducing VCT floor maintenance costs and improving sanitization in their facility. This seminar is about 2 – 3 hours in length and includes:
Green Floor Stripping Technique
Re-Coating Techniques
Best Practices to Reduce Labor Costs Associated with Floor Maintenance
Techniques to Minimize Equipment Down Time
Using Aqueous Ozone to Replace Most of the Cleaning Chemicals in Your Facility
FREE Breakfast or Lunch.  Your choice of food!
Please call us @ 800-793-3790 or contact us on the web to set up a seminar today.