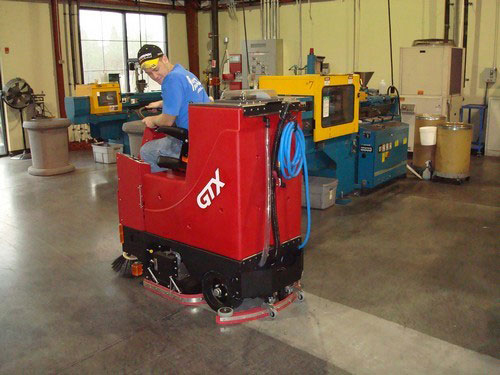 If you're interested in maximizing the productivity of your cleaning program and achieving better results than what you are able to achieve, then a floor sweeper or floor scrubber is the tool to help you meet those goals. The benefits of utilizing a floor sweeper or scrubber includes time savings, labor savings, increased employee moral, reduced water consumption, increased health and safety, and more.
When purchasing a floor scrubber the variety of models, options, and cost differences can be overwhelming to any buyer. At Factory Cleaning Equipment, our experienced equipment experts work with our customers to determine which machine is best suited for their unique needs.
Choosing the right equipment is essential to generating the best results and getting the most for your money. We make it easier for equipment buyers like you to make informed decisions by highlighting some key areas to examine prior to making a floor scrubber purchase:
What to consider when buying a new floor scrubber or sweeper:
1. Size
The size of the scrubber or sweeper and the size of the areas being cleaned need to be a good match. If you buy a machine too large, it might not fit in the aisles or around the equipment within your business. If you buy a machine that is too small, it could take longer than necessary to clean.
Purchase the appropriate sized sweeper or scrubber for the layout of your facility. Do you need a ride-on or walk-behind cleaner? If the facility is wide open, a larger, more powerful machine can be used to increase efficiency. However, you don't want to just look at the largest area that will be using the floor machine; look at the entire facility. Are there narrow hallways? One detail to remember when choosing the right size for your facility is the width of doorways. If you will be cleaning a kitchen, restrooms, around equipment, or in tighter spaces, then a highly maneuverable, compact walk behind scrubber or sweeper is probably your best bet, especially if the machine features a wand attachment.
The size of the cleaning path will impact the amount of time it takes to clean your floors, but the cleaning path isn't the only measurement you need to be aware of. The squeegee is most often the widest point on a floor scrubber, so be sure to check the machine specifications to ensure the squeegee size is ideal for where a scrubber will be used.
Once you've identified the maneuverability that your facility requires, the right cleaning path size, whether you need a ride-on or walk behind machine, you will have narrowed your search significantly.
2. Power Source
Battery, cord electric, propane, gasoline or diesel are the main sources of power for floor cleaning equipment.
Cordless, battery powered machines can maneuver indoors or out without the need for an electric source. For battery-operated equipment, the battery life and the length of time needed to charge should be considered. You'll also want to ensure that there is space to charge the equipment in your facility. Most battery operated scrubbers can be charged in any standard outlet. Charging the battery can take all night, so if you will be cleaning a large facility daily you'll want to make sure the battery run life is long enough to cover the entire facility on one charge. Some models of floor scrubbers offer different battery options that allow buyers to choose higher amp rated batteries to hold a bigger charge for longer. This option is an excellent choice for buyers concerned about battery operated scrubber run time.
On the other hand, propane is the most common fuel for engine powered equipment in industrial settings. Forklifts also use propane so the fuel is readily available in most facilities. Gasoline fueled engines are not as popular as propane but are often the choice machinery for outdoor operations that have gasoline on hand rather than propane. Diesel fueled engines are usually the choice for equipment that will be used in the harshest environments, including the severe cold.
Here's a blog that might help you narrow down the best power source.
3. Cylindrical or Disk
A floor scrubber or sweeper can be configured into a cylindrical machine or a disk machine. A cylindrical machine is a huge time saver in large manufacturing or warehouse settings. On a cylindrical machine, the scrub head contains two long cylindrical brushes. A cylindrical scrubber allows workers to skip pre-sweeping because the brushes are designed to sweep larger debris into a debris hopper. In certain settings, a cylindrical machine can eliminate the expense of needing a true Scrubber/Sweeper combination machine.
A disk brush machine has a number of advantages as well. The wide variety of brush and pad options available for a disk brush makes this type of machine extremely versatile for multiple floor surfaces and different levels of aggressiveness. The disk configured machine is powerful, accepting greater down pressure which is ideal for heavily soiled floors.
4. Ease of Filling and Draining Tanks
If you're considering a floor scrubber, you'll want to determine where you will be dumping and refilling your tank. These machines can hold quite a bit of water and depending on local waste water regulations and the type of facility being cleaned, you'll need to determine the safest and most convenient place to empty and refill your scrubber tanks. The tanks should also be rinsed after each use as part of regular floor scrubber maintenance, so it should be a fast and easy job.
5. Cost
The cost of equipment is a very fast way to narrow your search. More features typically mean more money, and new machines versus used machines vary in price as well.
One thing to ask yourself is how much the machine itself would save your bottom line. Will added features create an even more productive facility? It would take an average person an extremely long time to hand mop or sweep a 25,000 square ft area while a floor scrubber can take an hour or less depending on the size;Therefore, using a floor scrubber to clean that space five times per week would provide huge savings per month rather than paying an employee to clean by hand. Floor cleaning equipment is a sound investment and the added features are worth it in the long long.
6. Maintenance
Just like any other piece of machinery, floor cleaning equipment requires maintenance. When floor cleaning machines are regularly maintained, they almost always have a longer run life and have a higher trade in value if you decide to upgrade your equipment. The cost of maintenance varies, but budgeting for preventive maintenance prior to purchasing equipment can help lower the overall cost of maintenance. When a floor scrubber is maintained regularly, minor issues can be found and fixed before they become a costly repair. Maintenance also varies depending on the age of your machine (say, for example, new machine maintenance vs. used machine maintenance).
7. Warranty
You'll want to make sure that your floor scrubber or sweeper does in fact come with a warranty prior to purchasing so you can rest easy knowing your machine will perform. Floor cleaning equipment can be a major expense, so you want to make sure you're protected with a warranty.
Focus on your needs when determining which machine is right for your facility. These tips can help educated buyers in their search for the right floor scrubber. For experienced assistance, the experts at Factory Cleaning Equipment are available to help guide you to the right machine.