Rental equipment is designed to make your life easier, and we make the process of getting that equipment just as easy...
The winter season isn't easy on floors. Rock salt, ice melt, sand, excess snow, gravel, and mud are commonly brought indoors by equipment, tires, and foot traffic. Entrance matting can help, but won't protect your floors entirely. Damage to floors can occur when some of these corrosive materials are left on the floors. If not properly maintained, the damage done throughout the winter months may require a business to strip and re-coat the floors to bring them back to their desired condition. This process is costly and completely preventable.
By preparing for the winter season with a floor cleaning equipment rental, your business can quickly and easily remove corrosive or damaging materials and maintain clean and dry floors for your staff and customers.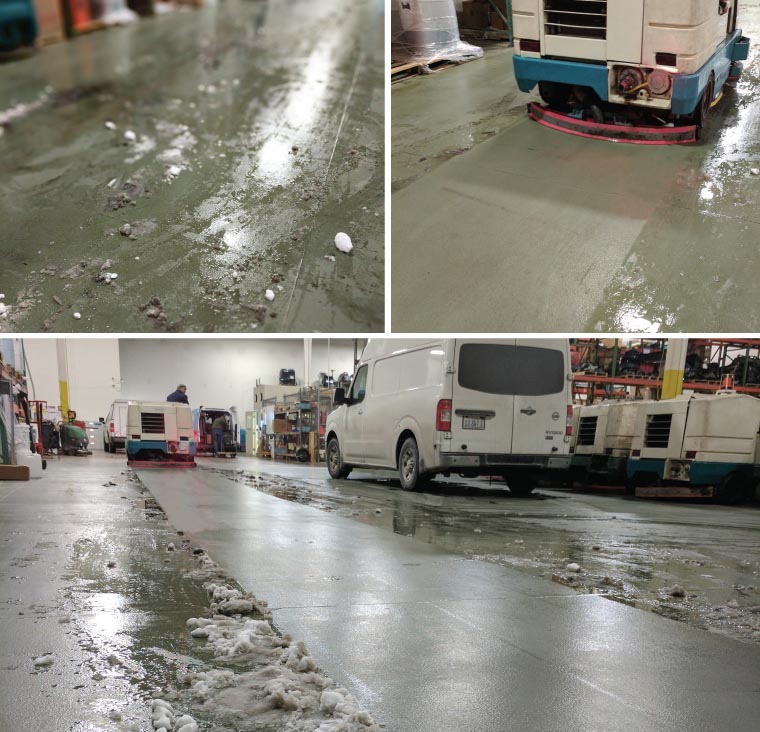 Water, ice, and other slippery residues brought indoors by winter weather are a major safety hazard. In addition, that grimy slush trekked indoors during the winter months is extremely unsightly. It's important to keep a clean image throughout the year. We know cleanliness can lead to happier customers and higher profits and that employees tend to be more productive and healthier in a clean work environment.
Weather isn't the only reason why winter is the best season to rent floor cleaning equipment. Winter months are a slower time for many businesses. Don't lose employee momentum during the slow season. Often we find that business owners and managers take advantage of this time of year to complete flooring jobs. This will help keep employee productivity up and proves to be an excellent use of time. Renting a floor cleaning machine is ideal for this type of work. Conversely, if the winter months are your industry's busy season or your business needs to combat having a lighter workforce during this time of year, employ rental equipment to increase productivity.
Large gatherings, holiday marketplaces, parades, and other winter festivities take place throughout the season and are a breeze to clean up when armed with the right equipment. Our team of equipment experts can assist you in choosing the right rental floor scrubber or sweeper to clean up after an event.
If you need a floor cleaning machine for a one-time job or just a few times throughout the year, renting is almost always the most cost effective option. By opting to rent equipment as needed rather than lease or own, maintenance is taken care of by us. There is no need to worry about machine storage. The machine is delivered in peak working condition so there are no surprises when it comes to the machine's productivity.
Get to Know Our Machines
Whether your rental floor cleaning equipment will be used indoors or out, in large or tight spaces, we have the right machine for the job. Our machines range from small, compact, battery operated floor scrubbers to large rider scrubber-sweeper machines. Our entire selection of floor scrubbers and sweepers for rent is reliable, high quality, and American-made.
Floor sweepers are ideal for cleaning areas with a lot of dust. In addition to the time savings, a huge benefit of using a sweeper over a push broom is the extreme dust control possible using the right equipment. The dust control prevents the dust and debris being swept up from being redistributed into the air or onto product. The Tennant S20 and 6600 sweeper rentals both use an innovative filter system that give these machines an unmatched level of dust control. Sweepers are excellent choices for cleaning up outdoor events, sidewalks, parking facilities, to sweep papers, dirt, and other debris.
Floor scrubbers are more similar to mops but work much faster and much more effectively. These machines use separate clean and dirty water tanks to ensure that when you scrub your floors, you are always using a clean solution. A powerful vacuum system and squeegee then removes the moisture from floors leaving them clean and dry in a single pass. One of our most popular rental machines for periodic deep cleaning of large facilities are the Tennant 7400, now known as the T20. This machine can work at a rate of about 60,000 square feet per hour.
With floor scrubbers, there are two options for brush configuration. A cylindrical machine uses a long cylindrical brush that can eliminate the need to pre-sweep. This type of scrubber is best for uneven floor surfaces and for grout lines. A disc machine is much more versatile and is able to deliver higher down pressure.
Our team of experts will work with you to determine your needs and, upon delivery of the equipment, will train your staff on its proper use. While many companies may just send a machine with a manual, we know that having a trained professional deliver the equipment with the knowledge to answer questions and offer operating tips helps our customers get the most out of their time with the equipment. With over two decades in the equipment industry serving the Midwest and Southeast, our trusted team makes the rental process quick and easy.
The Rental Process from Start to Finish
1) Request a rental machine for your desired job. You do not have to know which machine specifically as our team is trained to help guide you to the right one for your needs.

2) Receive a call from a team member to get a better understanding of what you are trying to accomplish so that we can quote you the best machine and detergent that will deliver the optimum results. If you prefer email communication, our team will respond with a quote that is the closest match based on your inquiry form.

3) An email is sent to you from your representative that details your conversation, including rental rates.

4) Machines are all inspected prior to delivery by our service team in order to ensure that it arrives to your destination in peak working condition.

5) Upon delivery, an equipment expert will be on hand to go over the different functions of the machine and give tips to help make sure your operators are equipped to be as productive as possible.

6) After your rental time-frame has ended, our team will arrange to pick up the machine from your location.
We have made it our mission to make the rental process as seamless and easy as possible. Our trained, knowledgeable staff assists customers in determining which machine would be best suited for the particular job in mind. An equipment expert is always present at delivery of our rental equipment in order to acquaint our customers with their new rental machine. Operator training helps ensure businesses are able to get the most out of the equipment during their time with it. Our Midwest and Southeast rental floor cleaning equipment customers are not responsible for pick up or drop off of equipment as we come to you. Having been in the industry for over two decades, we have worked hard to simplify the rental process and make it as easy on our customers as possible. 
Fight Back Against Dirt & Grime Today.