Should I Purchase a Disk or Cylindrical Floor Scrubbing Machine?
By Rick Schott Circle the author on Google+
Either a disk or cylindrical scrubber will work in many applications. There are many factors that enter into making the best choice. The pictures below will give you a good understanding of how each system works.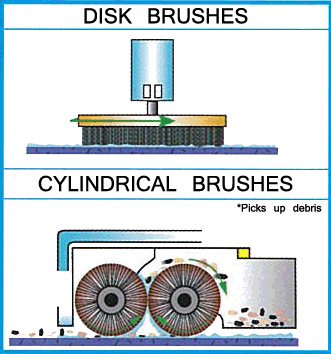 Disk Scrubbers generally feed water down to the center of two disk shaped brushes that turn at about 300 RPM. They also are capable of driving pad holders. Pad holders can be outfitted with abrasive scrubbing pads that are capable of doing everything from buffing a floor to stripping off old wax.
Cylindrical scrubbers feed water down to a drip trough in front of the scrub head. Two long, tube-shaped brushes follow. The front brush turns forward and the rear brush turns backward. The second brush is capable of picking up small debris and throwing it into a hopper behind the scrub head. Cylindrical scrub heads typically turn at a higher RPM, usually 600-800 RPM.
Disk Scrubber Advantages
Simpler system, usually direct or gear case driven, low maintenance
Capable of running pad drivers which are essential for maintaining waxed floors
Capable of higher down pressure for taking off thick build up
Brushes usually are "gimbel mounted" allowing brushes to clean very rough or uneven floors.
Cylindrical Scrubber Advantages
Machines sweep and scrub in one pass
Sweeping is dust free because it is done wet
Higher RPM brushes tend to polish concrete floors, especially floors that have been sealed with hardeners like "Ashford" or "Lipidolith"
Cylindrical scrubbers clean well with light down pressure. This is a very effective option when cleaning smooth and sealed floor surfaces.
If you would like to discuss your application further please do not hesitate to give us a call at:
800-793-3790
---
Circle the author on Google+.