If you already own a floor scrubber then you have experienced the difference between cleaning with a quality scrubber versus cleaning with a mop. There is no competition when it comes to sanitation. With a wand attachment for your floor scrubber you can get rid of that mop all together. Scrub behind toilets, in awkward corners, and around equipment with many of the same cleaning benefits of a floor scrubber in areas where a machine cannot maneuver.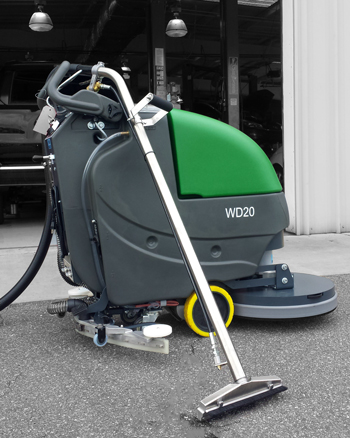 A floor scrubber is an extremely effective tool for cleaning a variety of floor surfaces. One benefit of choosing the right floor cleaning equipment is saving money by reducing the labor cost of cleaning. These labor savings can actually pay for the machine itself, usually within a year. This is a key reason why companies invest in the right tools. An increase in productivity is good for any business. To further increase the productivity of an industrial floor scrubber, accessories like the wand attachment are available.
A wand attachment can be purchased with your machine initially or after the machine has already been owned and operated. In many cases, floor scrubber owners will opt to purchase a wand attachment to reap even more benefits from their floor scrubber after the equipment has already been purchased. Easy-to-install without the need for a service professional and very affordable, the Bulldog wand attachment features the same clean water technology and extreme suction as the floor scrubber itself.
Clean in hard-to-reach areas, behind equipment, and in tight spaces such as restrooms with ease. Wand attachments' smart designs make it possible to dispense a clean water solution onto the floor, agitate the dirt, and then remove the excess moisture from the floors leaving them practically bone dry. This can all be achieved using this one simple tool that is easy to attach and detach when needed.
As an added bonus to the already highly maneuverable Bulldog Floor Scrubber, all models of the Bulldog are able to add a wand attachment. This is a unique feature of such a compact floor scrubber, making it ideal for use in smaller areas such as fitness facilities. Wand attachments are also available for Tennant Floor Scrubber models such as the popular 5700 Walk-Behind Floor Scrubber and many models that are larger than the 5700.
A floor scrubber does not redistribute filth while cleaning like a mop and bucket will. A wand attachment makes it possible to use this same technology and speed to get into hard-to-reach places where a mop would previously be needed. If you are already using floor cleaning equipment, this accessory can further boost the productivity of your cleaning program and create a more effective way of cleaning areas that would normally be cleaned with a mop. The Bulldog wand attachment is available for purchase online with fast shipment acrossNorth America.
To learn more about how a wand attachment can improve your cleaning routine, contact the floor cleaning equipment experts today: 800-793-3790.