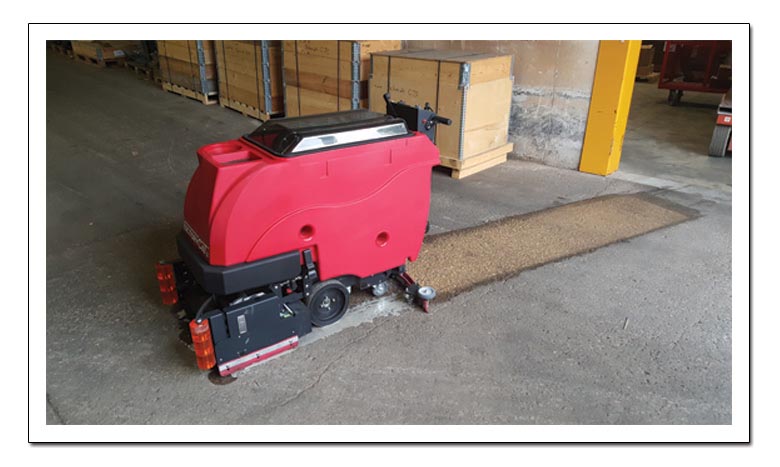 Our team of floor cleaning equipment experts has been finding smart solutions to fit the specific needs of our clients since 1994. Working with a vast array of industries, our dedicated staff is tasked with improving the cleaning program in a range of settings, large and small, industrial or commercial. This 'Application Spotlight' highlights the machine that we recently provided for a manufacturing facility that produces snow and ice control solutions for municipalities, cities, states, airports, etc.   
This manufacturer is another valued, long time customer. Over the years we have provided this particular client with quality machines, reliable service of their equipment, and expedited parts and detergents as needed. As a full service distributor of floor cleaning equipment, we don't just sell machines; we continually take care of our customers' unique needs as they operate their cleaning tools over the years. We value lasting relationships with our clients and enjoy being a part of their growth.
Problem: 
This manufacturing facility has continually experienced growth. Having recently been acquired by a foreign company, this American manufacturer is now gearing up for the global market. Part of this transition to a world class company means improving their cleaning program. With heavy metal fabrication, welding, bending steel, and painting, this heavy duty manufacturing operation needed help increasing their facility's cleanliness.
Solution: 
This manufacturer was already utilizing the extreme dust control and superior performance of the Factory Cat 34 Floor Sweeper. To bring their floor cleanliness to an even higher level, the Factory Cat Mini HD Floor Scrubber Dryer was chosen as a valuable addition to their cleaning fleet. The Mini HD is durable. Built with a heavy duty, e-coated steel frame, this machine is made to last. All components, including casters, Transaxle, Scrub Deck, Squeegee Linkage, and Jaws, bolt directly to its steel frame. On top of its high quality, durable construction, the Mini HD is the ideal size for this application. At roughly 250,000 sq. ft., this manufacturing facility smartly utilizes its floor space for the equipment within it. The Mini HD will have no problem maneuvering their tight floor plan with ease. High performance motors and down pressure allows this floor scrubber to deliver a higher standard of cleaning. Now, this manufacturer can use the Mini HD in conjunction with their Factory Cat 34 to achieve the cleanliness that their facility requires for their operation.
If your manufacturing facility is in need of new, used, or rental equipment to improve your cleaning program, contact our experts for your free consultation today.