When you've been in the floor cleaning equipment industry for over two decades, like our team at Factory Cleaning Equipment, Inc. you get the opportunity to work with many different clients in many different settings with their own unique needs. This 'Application Spotlight' highlights the machine that we recently demoed for a Metalworking business that was unhappy with the results they were seeing from their current floor scrubber. The floors never seemed to get completely clean despite scrubbing and they were not satisfied.
This particular business works in duct fabrication, HVAC unit protection cages, custom fire pits, and more which you can imagine can create a significant amount of dust. Using a push broom in a very dusty environment can create airborne dust which can make its way into the lungs of those within the facility posing a health hazard. The airborne dust also settles back down onto the ground or onto inventory. Dust control is one of the most important features of a floor sweeper due to its ability to sweep dust and debris at high speeds without creating airborne dust.
Problem:
This Metalworking business had been using a floor scrubber in their shop and was unhappy with the resulting level of cleanliness of their floors. The client called our team and we sent out a representative to assess the facility. Our experienced sales professional quickly realized that this particular application really needed an industrial floor sweeper in order to first remove the dust and debris from the floors. Without first sweeping the floors, the dust created in the metalworking facility basically turned to mud when the floor scrubber wet the floors. An industrial sweeper does not use any moisture to clean the floors and leaves no residue behind. One question we ask in determining whether a floor scrubber or floor sweeper is best suited is, does your manufacturing process create debris that winds up on the floor? If so, you are probably a floor sweeper customer. This client was creating dust that was ending up on the floor and a floor scrubber was not the best tool for the job in that situation.
Solution:
A Factory Cat 34 was recommended to this particular client in addition to the floor scrubber that they already own and operate. We recommended that the floor be swept daily with a floor sweeper and the floor scrubber should be used intermittently to deep clean the floors as needed. The Factory Cat 34 is a high quality piece of American made equipment that will likely be the only sweeper this particular client will ever need to purchase. This machine has a very unique dust control system including a "bag house" type filter that can last the life of the machine in many cases. In addition to creating a cleaner environment, using a floor sweeper will also extend the life of their floor scrubber by reducing the frequency that the scrubber will be used and limiting its exposure to debris that could potentially clog its systems. The Factory Cat 34 can sweep at a rate of about 10 times faster than could be swept manually, cleaning up to 30,000 square feet per hour. Now, this Metalworking business can clean with confidence knowing that they are using the right tools for the job.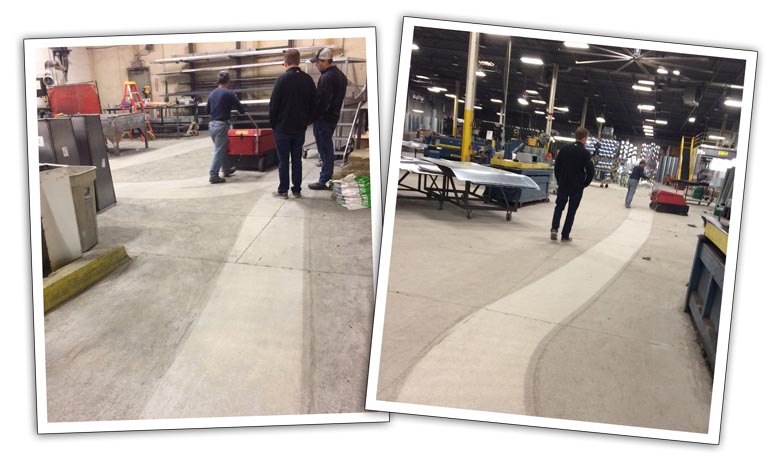 Are you unsatisfied with your current floor care routine? Contact us today to find a solution for your floor cleaning needs: 800-793-3790