Since 1994, our team of floor cleaning equipment experts has been helping customers choose floor care solutions to meet their business's specific needs. Over the years, we have had the opportunity to work in a large range of industries and settings. This 'Application Spotlight' highlights the machine that we recently provided for an excavating company. This particular client was finding that soon after sweeping, their floors were once again completely covered in dirt and sand.
In addition to time saving benefits, utilizing cleaning equipment in a setting like this can have health and safety benefits. For businesses that work in particularly dirty or dusty environments, such as an excavating company, the debris kicked up by manually sweeping can find its way back onto the floors, product, or into the lungs of workers posing a health hazard. Dust control is one of the most important features of a quality industrial floor sweeper.
Problem:
This excavating business was manually sweeping and finding that their efforts were inconsequential after a very short time. The photos below show the amount of dirt and sand on the floors only two days after they had been manually swept. Once we were contacted by this client, our equipment specialist worked with them to determine a machine that would work for their application size, the type of debris left on the floors, their budget, the amount of labor savings a machine would yield, among other factors.
Solution:
A Rebuilt Tennant 6100 Rider Sweeper was chosen for this application. A floor sweeper not only removes dirt much faster than a push broom without creating airborne dust, it also cleans the floors without any moisture, leaving no residue behind. The 6100 is a compact industrial grade, self-propelled, rider sweeper that is ideal for sweeping small debris on any hard surface floor; it even works great on carpets. Its small size allows the 6100 to be used in a large variety of settings. This machine will get the job done much faster than a push broom, sweeping at a rate of 35,600 sq feet per hour when operated at the recommended speed of 3.0 MPH. The ergonomic and safety features on this Tennant model make this machine a breeze to operate. There is even an optional vacuum wand that allows you to clean tight corners and hard to reach areas. Purchasing rebuilt equipment is not only economical, it is also often better for the environment than purchasing new. Our factory-trained, highly skill technicians restore used machines to like-new condition. Now, this excavating company is able to clean their floors faster and get the job done much more effectively.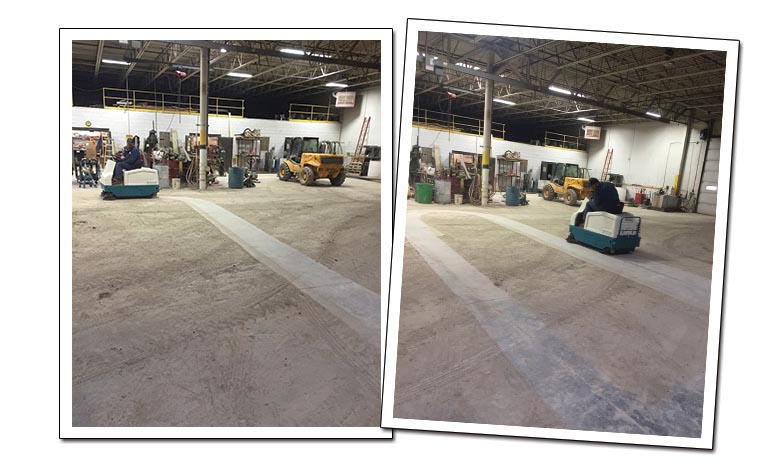 For a free equipment consultation or demonstration, contact our team of specialists today: 800-793-3790