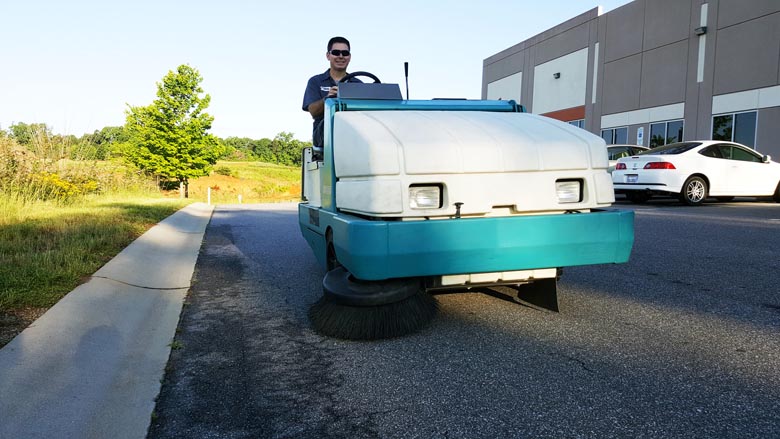 The foundation for how your business presents itself is built before new clients, customers, and employees ever walk in the door. It starts outside. Parking lots and sidewalks that are crumbling, littered with trash, and filled with weeds protruding from cracks do not help create a successful, detail-oriented, or quality image. A well maintained parking lot is an opportunity to create a positive first impression for customers and potential customers. With indoor and outdoor capabilities, an industrial sweeper can produce a number of benefits by keeping your parking lot and sidewalks clean.
Benefits of Using a Sweeper for Regular Parking Lot Maintenance:
1) A maintained parking lot discourages littering. If a parking lot is already dirty, people are more likely to leave their own litter behind, creating even more of an eye sore and more trash to eventually remove.
2) Helps extend the life of the parking lot. Excess sand and other debris can cause erosion if left on the parking lot pavement. By removing these abrasive materials, the pavement can last longer between repairs.
3) Limits pollution by preventing trash, grit, and other debris from being washed into storm drain runoff systems.
4) Discourages rodents by removing potential feeding and nesting grounds.
5) A clean parking lot is inviting. If the outside of your business is well taken care of, it can help create a positive feeling that the customer will carry throughout the remainder of their experience with your business.
In metro areas, like Chicago, parking lots can have an increased amount of traffic and pedestrians so the sweeping of Chicago sidewalks and parking facilities should be a priority of businesses. The Tennant S30 rider sweeper is available with optional dual side brooms for a category leading 80 inch cleaning path is an excellent choice for a Chicago floor sweeper. Add the optional vacuum wand and clean tight corners and hard to reach areas. This machine can be configured for indoor or outdoor floor sweeping in Chicago. At the recommended operational speed of 5.0 MPH the S30 rider sweeper cleans at the rate of 122,000 square feet per hour. Instead of blowing debris into the air or spreading it around, this Mid-Sized industrial grade, self-propelled, rider sweeper removes dirt and debris while a large vacuum fan pulls the dust into a highly efficient three stage dust control system called "SweepSmart", and clean air is exhausted.
Busy Charlotte parking lots also see many cars and people throughout the week. Regularly sweeping Charlotte sidewalks and parking areas will help extend the life of the pavement and help give current and potential customers a positive impression of your business. One benefit of using a floor sweeper, like the Tennant S20 battery-powered sweeper, is the advantage of a fume-free, quieter operation and low maintenance. Another reason this machine makes a great Charlotte floor sweeper is that the S20 rider sweeper can be fit with optional dual side brooms, giving it a category leading 62 inch cleaning path. With the optional vacuum wand, it is fast and easy to clean tight corners and hard to reach areas.
Cleanliness ranks as a top factor for determining where customers will shop. Don't let poor maintenance on the outside of your building tarnish the image you have worked to create on the inside. Show current and potential customers that your business is detail oriented, considerate of their health, safety, and satisfaction with clean parking areas and sidewalks.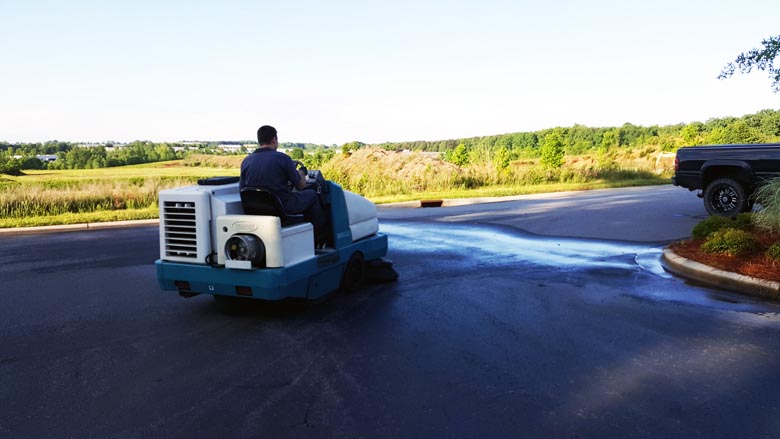 Contact our team of floor cleaning equipment specialists today for a free demo or consultation: 800-793-3790