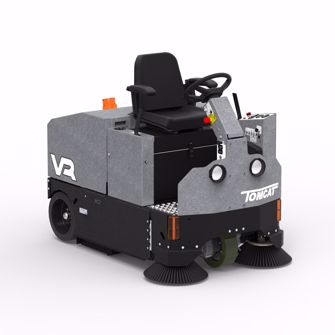 Tomcat's VR floor sweeper was designed from the successes of the now retired Model 34. It was made to be compact but not considered light-duty because they work great in commercial settings like factories, warehouses, steel and paper mills, stables, tennis courts and any other facility that has a lot of debris on the floor. The dual high speed side brooms pick up anything in its path and stores it in the hopper to be emptied later.  It can pick up bags of cement without a trace of dust left behind. The VR riding sweeper works on any floor type, including AstroTurf, and the battery power on the VR floor sweeper runs for up to 7 hours on a single charge.
Why buy a Tomcat VR?
The Tomcat sweepers are all-steel with oversized components for smooth operation, durability, and easy maintenance. There is an energy management system, the 'Central Command', gives them the power that used to be reserved for gasoline or propane-powered machines. With these key features, you can see why the VR riding sweeper is the most powerful, compact battery-powered sweeper on the market:
Built for cleaning any type of floor with side brooms for corners and along the wall, and a tubular broom under the machine packs all the debris into a steel hopper. The second stage vacuum traps dust in a bag-house filter that will last a lifetime.
It saves you money by cutting labor costs. No specialists are needed to operate a Tomcat sweeper. Controls and maintenance are simple – no oil changes, fuel leaks or spills, brooms to reverse, or tanks to exchange.
Convenient onboard automatic battery charger for when you need to sweep for more than 7 hours
The bag-house filter has a long life and large holding capacity
All steel construction for operator safety and durability
Sweeps up to 350,000 square feet in one shift, on a single charge
The headlight, horn, and auto-parking brake are all standard
At only 68 dBA it is quiet enough for any facility!