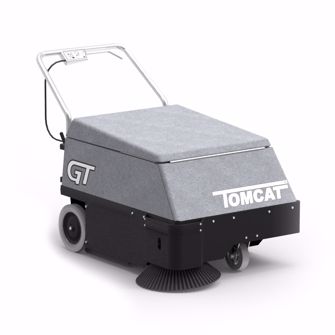 Tomcat's GT floor sweeper was designed 25 years ago and not much has changed. It was made to be compact but not considered light-duty because they work great in commercial settings like factories, warehouses, steel and paper mills, stables, tennis courts and any other facility that has a lot of debris on the floor. The high speed broom picks up anything in its path and stores it in the hopper to be emptied later. It works on any floor type and is quiet enough to be used around animals. The battery power on the GT floor sweeper runs for over 4 hours on a single charge and the broom can be adjusted when it gets worn.
Why buy a Tomcat GT?
Built for cleaning any type of floor with a side broom for corners and along the wall, and a tubular broom under the machine packs all the debris into a steel hopper. The second stage vacuum traps dust in a bag-house filter that will last a lifetime.
It saves you money by cutting labor costs. No specialists are needed to operate a Tomcat sweeper. Controls and maintenance are simple – no oil changes, fuel leaks or spills, brooms to reverse, or tanks to exchange.
The Tomcat sweepers are all-steel with over-sized components for smooth operation, durability, and easy maintenance. There is an energy management system, the 'Central Command', gives them the power that used to be reserved for gasoline or propane-powered machines. With these key features, this floor sweeper is a great choice for any facility:
Self-propelled with a fully adjustable handlebar for operator ease
Oversized battery and on-board charger for extended run times
The bag-house filter has a long life and large holding capacity
Self-adjusting main broom reduces maintenance while the large side broom increases productivity
There is a 900 lb. capacity caster and ½ ton capacity tire for durability and improved maneuverability