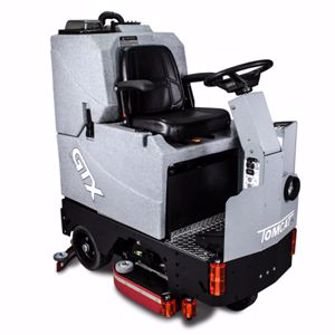 Tomcat's GTX ride-on floor scrubber (also known as the Tomcat CRZ) can make your floor look like new again. Polish epoxy and stone floors, clean tire marks and areas with heavy foot traffic, create mirrored reflections in marble all from your comfortable, high visibility seat! Easily getting through doorways and hallways (unlike many other riding scrubbers) it would make a great addition to just about any facility – school systems, healthcare, warehouses, grocery, retail, arenas and many others. Get the productivity of a riding floor scrubber with better maneuverability than a walk-behind. The GTX is available with either the disk scrub head system that has a lower maintenance cost and 50% more scrubbing power than other brands or the cylindrical scrub head that is perfect for cleaning grout lines, rubber floors and sweeping debris while scrubbing.
Tomcat Chart Topping Productivity:
20% larger tanks mean less time is needed to stop and refill
Make fewer turns with a wider scrub path
Stubborn grime removal is easier with higher scrub pressure
Keep floors safe and dry with more vacuum power
A 7 hour run (36 volt, battery-operated) run time means you can clean in a single shift!
The deck on the GTX has curtains and wipers for the best water control. For brush access, the thick steel side shrouds are easy to remove. If machine batteries get too discharged, the GTX scrubber dryer will automatically shut down and give you the ability to return it to the charge station. The 'tip back tank' makes maintaining equipment a smoother operation with access to batteries, vacuum motors, and actuators. Some popular features include:
Central Command II system includes on-board diagnostics to help with preventative maintenance
Vacuum wand and side brooms
The tall seat with armrests keep operators comfortable
Wide 5" tires have good traction and a soft footprint
6" tall rollers protect walls and the kick plate while letting you clean close
Heavy-duty drive means you can climb inclines effortlessly