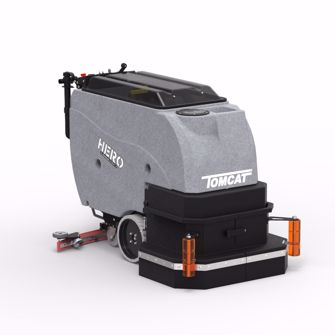 Tomcat's Hero commercial floor scrubbers exceed expectations with a run time of up to 5 hours and the ability to clean 23,000 square feet per hour. It would make a great addition to just about any facility – school systems, healthcare, warehouses, grocery, retail, arenas and many others! You'll not see marks on your walls with large polyurethane rollers protecting the scrubber deck of the Hero. It is available with a Traction drive that includes a powerful all-gear transaxle to make climbing ramps easier and operation effortless. You can choose from three different scrub head types, all with different features and benefits.
Scrub Heads Available:
Disk – Gives you the option to choose between a brush or pad, has the lowest maintenance cost, improves cleaning on uneven floors, and individually driven brushes enhance performance.
Cylindrical – Has superior grout cleaning abilities, it can scrub and sweep simultaneously, and eliminates dust mopping.
EDGE – mainly used for maintaining and stripping floors (without chemicals), wet screens wood gym floors and boasts a 70% reduction in water usage.
The deck on the Hero is fully protected by steel guards and large corner rollers. Its simple design also allows it to be maintained effortlessly. All you have to do is tip back the tank and there you have access to the batteries, motors, solution filter, vacuum screen and drain saver basket. The drain saver basket reduces the risk of incurring expensive repairs associated with clogged floor drains. With three scrub systems to choose from and these key features, this floor scrubber is a great choice:
Machine Control Panel – switches are marine-duty and there are universal icons to streamline training.
Vacuum Muffler – consistently achieves 62 dBA.
Squeegee Adjustments made with wing-nuts means you don't need tools to maintain the 4-sided squeegees!
Front Fill System – has a retractable hose and stainless screen.
An oversized vacuum screen shut-off stops overfill issues and protects the vacuum motor.