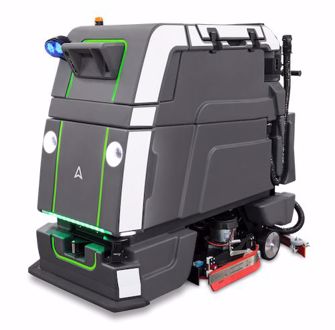 With a simple-to-use setup and an operating system that adapts seamlessly to the environment, the Neo 2™ robotic floor scrubber provides the cleaning you need in a fraction of the time. Avidbots' state-of-the art technology requires minimal involvement, optimizing the efficiency of your team.
The Neo 2™ self-driving floor scrubber includes e-stop buttons, bumpers, and vibrant lights to ensure a safe operational environment whether you're cleaning a warehouse or retail store. The industrial batteries allow for 5+ hours of automated floor scrubbing without needing to be recharged. ​​Moving at speeds up to 4.43 ft. per second with pads and brushes rotating at 350 RPM, the Neo 2™ cleans and sanitizes more effectively and efficiently than humans. Lower your labor costs and allow your team to focus on more important tasks while the Neo 2™ gets the floor scrubbing done.
With the Avidbots Command Center, you can watch, track and direct your Neo 2™ from anywhere. Retrieve comprehensive reports of each performance, including precision productivity metrics and sector-level coverage maps. The Neo 2™ also has the ability to be put into manual mode for a more detailed clean.
See the Neo 2™ in Action