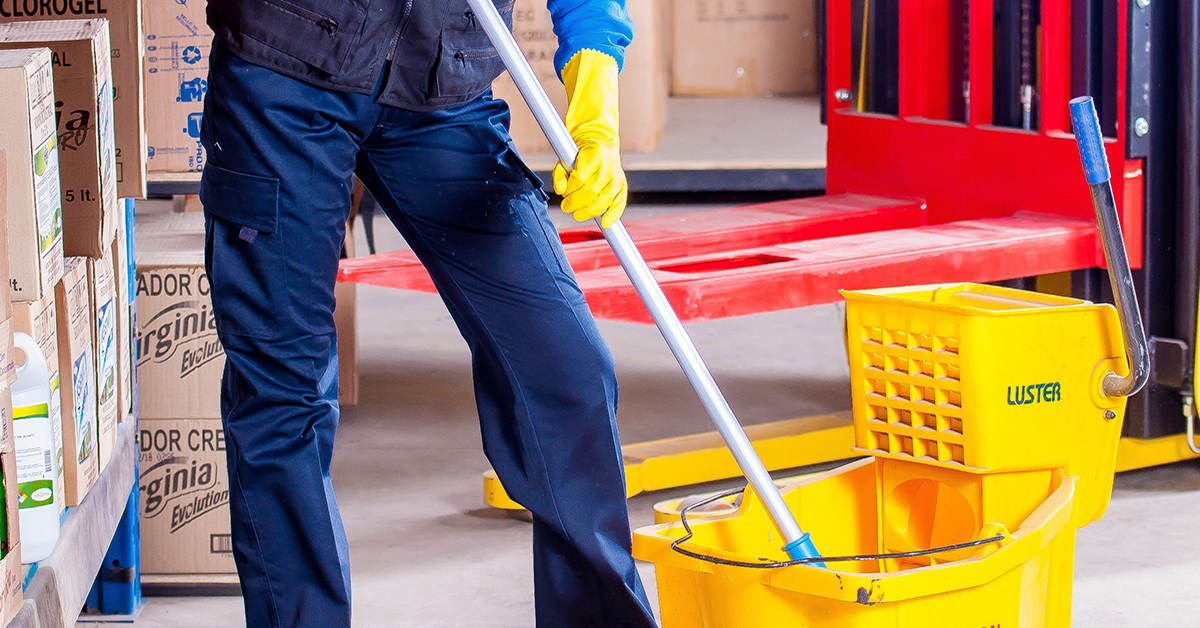 The first day of spring is not unlike the first day of the new year. Just like people wait all year to "get their act together" in resolution form at the start of the year, people put off quality cleaning until spring rolls around. This procrastination is disguised as "Spring Cleaning." Look, I'm not trying to beat you up about it, we all do it. I'm just here because like most people you're likely looking at your large plant or warehouse and wondering "where do I even start?" I want to help get you started. 
Where to Start
Any deep cleaning event should start off by being scheduled. Pick a specific date (or two) and put it on the calendar, making sure everyone knows when Spring Cleaning is happening. Make sure you schedule far enough in advance that you can actually make a plan.
Before any cleaning actually takes place, the first thing you're going to want to do is to assess your cleaning equipment, making sure it's working properly. Simple equipment like brooms, mops, vacuums, etc won't require much to keep them in good condition, but larger plants require heavier equipment. Most large facilities such as warehouses, food and beverage distribution centers, manufacturing plants, or steel mills will have industrial cleaning equipment such as floor scrubbers or sweepers. These machines require regular maintenance as they have several wear items. Check to see if any of the wear items on your floor scrubber need to be replaced. Lastly, make sure you are using the proper cleaning chemicals and have enough stock. This would also be a good time to make sure your operator(s) are trained properly.
Plan to sweep up driveways, outdoor loading docks, and parking lots first. At the end of a long winter, your outdoor areas are generally covered in salt residue, sand, gravel, etc. With warm weather coming your employees are more likely to leave dock and garage doors open. Consequently, a great deal of this dirt and dust will make it into your building. Stopping dirt at the source is always a great first step to keeping your facility clean. 
Once back indoors, plan to clean from the top down, such as removing dust from a high-level product, racks, and/or shelving units. Cleaning under racks and around equipment is often overlooked, so Spring Cleaning is a great time to address it. Finally, clean your floors thoroughly to get rid of built-up dirt, dust, debris, oils, or spills. It is important to note that if you are using a floor cleaning machine such as a floor scrubber or sweeper, never run it over spilled flammable liquids!
Equipment
With the right equipment, this task can be accomplished both fast and efficiently. If you're stuck with a big Spring Cleaning project and only a mop and bucket, you may consider renting cleaning equipment to make your life easier. A floor scrubber/sweeper combination is a great piece of machinery to rent as it will sweep up dust and debri, scrub, and squeegee-dry the floor all in one pass. However, there are many different types of scrubbers and sweepers, from smaller walk-behind units, to mid and large size ride-on units. Depending on your preference, many machines come with the option to be powered by battery, gas, LPG, or diesel.
Is Spring Cleaning Really Worth Your Time?
As mentioned above, there are some cleaning challenges that are par for the course coming off of winter into spring. These have to be addressed in the spring, but many of the other cleaning tasks left to this one time every year are unnecessary. Investing in the proper equipment, hiring and training quality operators, and having daily, weekly, monthly and quarterly cleaning tasks will keep your facility clean all year round. Taking the time to remove accumulated dust and dirt from your environment will not only provide a safer work environment for your employees to appreciate, but it will save you time and money in the long run.