Is your brush breaker tripping? Is there no water/solution flow at the brush or in the recovery tank?
To help resolve flow issues on your floor scrubber, keep reading or watch the video below and hopefully one of our suggestions will solve your problem. 
Most floor scrubbers have an inline solution filter. Clean the inline filter (the location of this filter may change depending on the brand of machine that you have).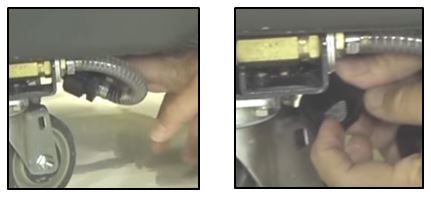 If your scrubber has a water level setting on it, turn it to the highest setting and run the machine.
Disconnect the inline filter. Water should pour out of the line – if not, there is a clog in the line.
Fill the machine's solution tank with warm/hot water and 1 cup of bleach. Let it sit overnight and then disconnect the inline filter and see if it drains. DO NOT RUN YOUR MACHINE WITH BLEACH.
If none of these steps work, you may have a problem with the solution valve, which would require more professional assistance.
Follow this instructional video for more assistance.
Do you still need help? Give us a call at 800-793-3790 and we can get our service team to help you out.