Factory Cat Sanitation Scrubbers
Designed to Quickly Disinfect High Traffic Floors and other High Touch Hard Surfaces in your Facility
Factory Cat Sanitation Scrubbers, powered by Zer03 + Antimicrobial Tanks are the only machines on the market today that were purposely built to help you in the fight against COVID-19 and other infectious diseases. In a recently revealed study from The CDC, it was shown that floors may harbor more bacteria than most other hard surfaces in your facility.
At Factory Cleaning Equipment, we are helping facility managers answer this difficult question…"What are you doing to keep your valuable employees safe when they come back to work?"

Lease to own from $223 / month plus tax & freight All Sanitation Scrubber Models Include a Spray Gun for Applying Disinfectant to Other Hard Surfaces
Start Sanitizing Your Facility Today
Factory Cat Scrubber / Sweeper Equipped with Sanitization Package
Save time and effort.
Scrub, Sweep, and Disinfect Floors with one machine.
In order to disinfect any hard surface, it first needs to be clean. Our cylindrical scrubber/sweeper machines with sanitization package will help your staff be as productive as possible when cleaning and sanitizing your facility. Equipped with a separate 3-gallon tank dedicated for EPA approved disinfectants and a 100-PSI spray gun, these machines save valuable time, allowing for quick and effective application of disinfectant solutions to hard surfaces. Use it to disinfect high-traffic floors as well as high-touch hard surfaces like worktables, off aisle areas, and even restroom fixtures.
All Machines Include These Options:
3-Gallon dedicated Disinfectant tank and 100 PSI Handheld Spray Gun
Onboard Zer03® (Detergent Free Cleaning System)
Antimicrobial Tanks (while supplies last)
Urethane Squeegee Blades
Non Marking Tires
Cleaning with Both Zer03® And Disinfectant
Our Zer03® system transforms ordinary tap water in the solution tank into a powerful cleaner without the use of detergent and delivers it to the brushes. Anti-Microbial Tanks are easier to keep clean and discourage bacteria growth.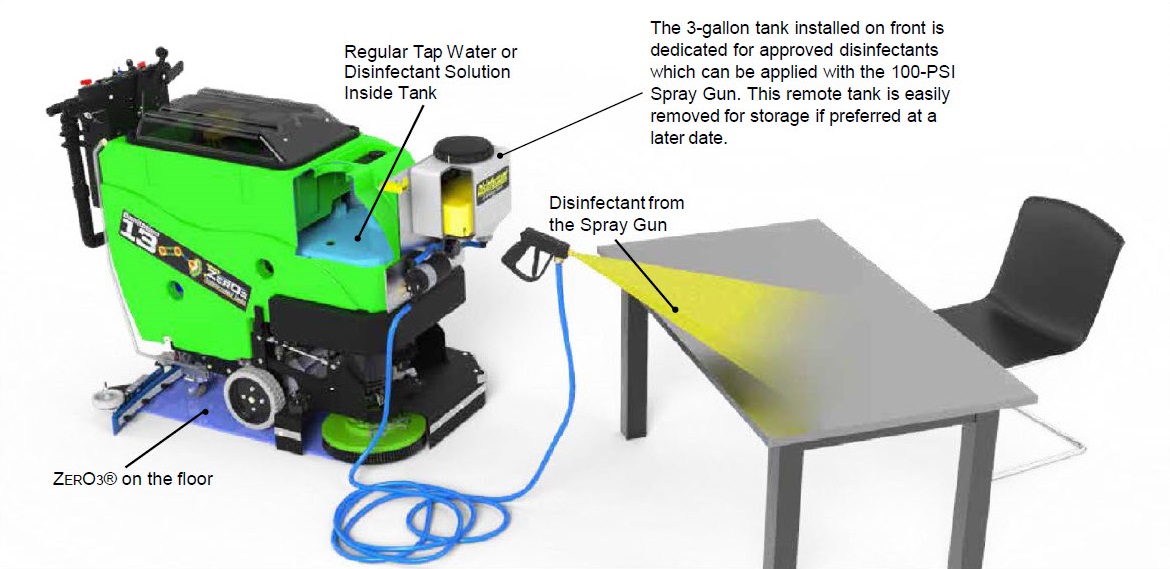 Factory Cat Sanitization Scrubber / Sweeper Specifications
Included 3-Gallon Disinfecting Tank With Spray Gun.
13 24" Orbital shown
21 28" Disk shown
30 29" Cylindrical shown
Disk Scrub Path:
17", 20" & 26" in


43.2, 51 & 66 cm

26" & 28" in


66 & 71.1 cm

30" & 34" in


76.2 & 86.4 cm

Cylindrical Path:
25" in from $223/month*


63.5 cm

25" & 29" in from $231/month*


63.5 & 73.7 cm

29" & 33" in from $269/month*


73.7 & 83.8 cm

Orbital Path:
20" & 24" in

51 & 61 cm

24" & 28" in

61 & 71.1 cm

28" & 32" in

71.1 & 81.3 cm

Dimensions (L•W•H):
* Dimensions listed are for the largest width deck configuration and squeegees removed from the machine
45" X 21" X 39" in*


114.3 x 53.3 x 99.1 cm*

52" X 22" X 40" in*


132.1 x 55.9 x 101.6 cm*

55" X 26" X 40" in*


132.1 x 66 x 101.6 cm*

Solution Tank:
13 Gal


49.2 L

21 Gal


79.4 L

30 Gal


124.9 L

Recovery Tank:
15 Gal


56.8 L

23 Gal


87 L

32 Gal


117.3 L

RunTime:
* Based on continous scrubbing, ntimes, standard batteries, low down pressure and all options off
Up to 2.5 Hours*
Up to 3.5 Hours*
Up to 5 Hours*
Theoretical Coverage:
* Coverage is based off ISSA 2010 Cleaning Times
27,027 sqft / hour*


2,510.9 Sqm / hour*

27,027 sqft / hour*


2,510.9 Sqm / hour*

31,915 sqft / hour*


2,965 Sqm / hour*

*60 Month Lease to Own plan. Does not include Tax & Freight
Other Floor Cleaning Options:
Interested in other Factory Cat Sweepers or Scrubbers?
Interested in renting a floor scrubber?