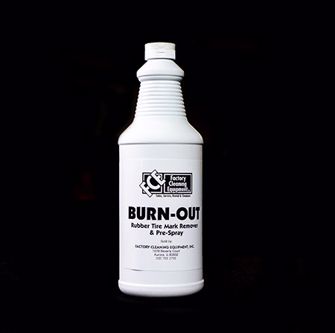 Rubber Tire Mark Remover & Pre-Spray
Burn-Out is a tough pre-spray and rubber tire mark remover. This floor cleaning detergent removes stubborn rubber marks while penetrating and loosening dried soils. It is safe, biodegradable, and has a light citrus scent.  When using this product, it is a good idea to first test it in a small inconspicuous area to make sure it does not harm your floor finish. After testing, apply it liberally to marks or soils and allow it several minutes to sit. After it has had time to penetrate the offending soil it may be wiped away or sucked up with your auto scrubber. This product is not to be used directly in the solution tank of any floor cleaning machine.
Benefits
Removes stubborn rubber marks FAST
Penetrates and loosens dried soils
Dilutable for different applications
Pleasant fragrance
Biodegradable
No carcinogenic ingredients
Minimal
Recommended Uses
Hard floors (all types)
Epoxy floors
Unfinished concrete floors
Industrial floors
Burn-Out comes in a convenient package of 12, one quart bottles. We typically recommend using a grit type brush on your floor scrubber for best results. A grit brush will enhance unfinished concrete and you won't have to double scrub as often. On more stubborn tire marks or dirt stains, you may want to overlap the cleaning passes to ensure uniform cleaning.