2018 is rapidly coming to a close! With longer lead times on our most popular sweepers and scrubbers, you must act soon to buy or lease our new or used equipment before the end of the year (while also qualifying for the Section 179 Tax Deduction). Tick tock…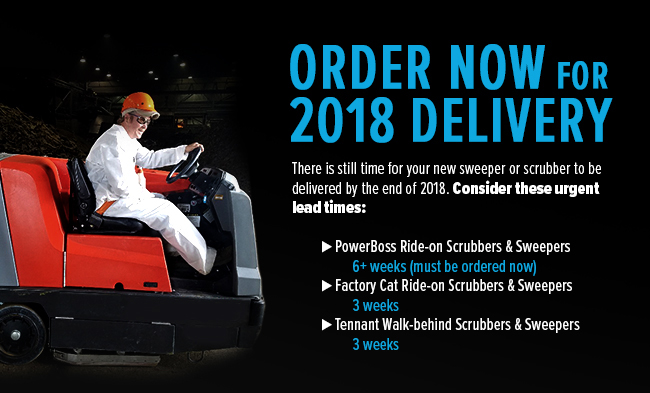 Additional Lead Times
Tennant Ride-on Scrubbers & Sweepers – 2018 Production SOLD OUT!
PowerBoss Battery Walk Behind Scrubbers & Sweepers – (Low Cost $1 Buy-out leases available) 1 week lead time
Factory Cat Battery Walk Behind Scrubbers & Sweepers – (Low Cost $1 Buy-out leases available) 1 week lead time
Bulldog WD20 20" Battery Scrubber – ($132/month* + tax) In stock for immediate delivery
Simple Clean 17" Battery Scrubber – ($85/month* + tax) In stock for immediate delivery
Bulldog Micro 14" Battery Scrubber – ($85/month* + tax) In stock for immediate delivery
Put Cash Back in Your Business with Section 179
Has it been a great economic year for your business? It might be time to think about some tax planning. Deducting a capital equipment purchase (like a floor scrubber or sweeper!) using Section 179 of the tax code could mean huge tax savings for you and your business in 2018.
In the past, let's say, for example, you purchased a scrubber for $50,000. You would write off the equipment through depreciation ($10,000 a year for 5 years).
But now, Section 179 allows your business to deduct the full purchase price from your gross income. Your business can write off the entire purchase price of the scrubber or sweeper ($50,000 in our example) for the current tax year, putting potentially thousands of dollars of cash right back into your business. For more info on Section 179, click here:
Here are a few important details:
Finance a new scrubber today with no cash outlay. It's an incentive by the government to encourage businesses to buy equipment and invest in themselves.
Equipment must be delivered by 12/31/18, so act quickly with longer lead times. You can take delivery now, write it off, and pay for it later.
Dollar buy-out leases qualify for the entire deduction, meaning you can save on taxes now and pay for the machine over the next 5 years with no money down! 
Details on tax deduction can vary – ask your tax professional.
Fuel Your Business with Efficiency
Over 90% of the cost of cleaning a building is the labor to do it. Using a floor scrubber is a far more efficient and effective way to get a floor clean. We estimate that walk behind floor scrubbers clean 10 – 20 times faster than mopping. Riders can clean up to 30 times faster depending on their size.
If you were thinking about buying or leasing a floor cleaning machine, the time is now! Fuel your growth with more capital and more efficiency by upgrading your floor cleaning process now.
We're ready to help you tool up for the future and cut your 2018 tax bill.