You have the floor. You picked out the scrubber. You set your cleaning goals. The final step is to choose the best scrub brush for the job. The two most common scrubber brush materials are nylon and poly (polypropylene), yet each brush has its own unique features. Here's a guide to selecting the best brush or pad for your scrubber:

White Pad
Different than a brush, it's held in place by pad driver and attaches to your floor scrubber the same way a disk brush would
All-purpose pad safe for a variety of floor surfaces
Soft, non-aggressive cleaning pad used to clean and polish delicate surfaces
Comparable to soft nylon brush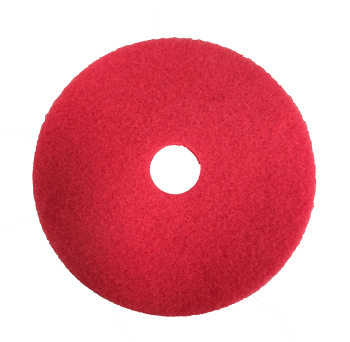 Red Pad
Medium duty, mildly aggressive cleaning pad
A step up from the white pad
Comparable to soft poly brush
Black Pad
Heavy duty, aggressive pad used
Used to strip wax or clean heavily soiled floors
Comparable to heavy grit brush

Soft Nylon Brush
Great for light duty cleaning 
Softest scrub brush (won't scratch delicate surfaces)
Most common among bristle brushes
Can withstand a textured floor
Ability to clean low or uneven spots
Often used for new concrete, epoxy, and some wax finished floors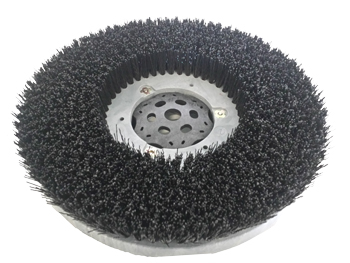 Soft Poly/Black Brush
Ideal for light to medium duty cleaning
Great general-purpose brush for concrete and coated epoxy floors
A step up from Soft Nylon
More durable and long-lasting
Most affordable brush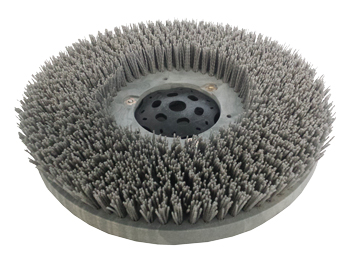 Light/Medium Grit Brush
Great for aggressive cleaning purposes
Equipped with silicon carbide grit
Capable of removing buildup and stains 
Not suitable for sealed/finished floor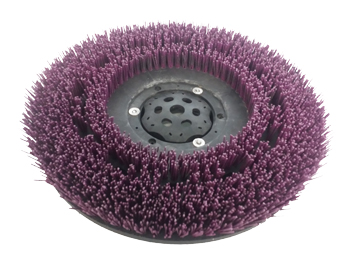 Heavy Grit Brush
Great for extremely aggressive cleaning purposes
Thicker silicon carbide grit
A step up from Light Grit
Capable of removing thick and stubborn heavy buildup/stains
Typically for restoring older floor that hasn't been cleaned recently
Most expensive but extremely effective
Not suitable for sealed/finished floor
Use this diagram to see what brush or pad is safe for your floor type. Remember that each brush/pad has its own unique purpose based on what you're trying to accomplish (from polishing to cleaning to stripping).