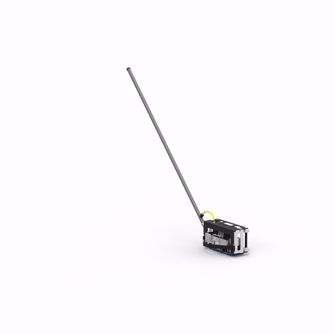 Removing grime and caked on dirt in small, hard to reach spaces has never been easier! Don't break a sweat cleaning bathrooms, stairwells, bleachers, or any other small area that walk-behind floor scrubbers cannot get to with Tomcat's NANO EDGE orbital scrubber. It is compact and lightweight so transporting it is just as easy as using it. The orbital scrub head is a small rectangular pad that moves in a tight circular motion for maximum cleaning efficiency.
What makes the NANO EDGE so popular?
Removes layers of finish with no chemicals.
The ergonomic handle is comfortable for operators and makes it easier to handle.
Easily disconnect the electrical connection for quick transport.
The dual handle mounting has a simple spring latch release.
Heavy-duty, poly casing protects the motor.
Weights located underneath the casing allow for high pressure cleaning.
An aluminum plate for the pad is wear and corrosion resistant.
There is an option to add a baseboard cart for the NANO EDGE – a wonderful attachment for any facility with stairs and/or baseboards. You can easily attach the cart to your scrubber and clean grout lines in a baseboard, strip residual finish, or clean stairs quickly.